Social media has completely changed the face of customer service. With the advent of social networks and the growing importance of customer service, traditional customer service models are becoming increasingly outdated. The consumer demands a better customer experience and is not satisfied with the level of customer support they receive with traditional service. Over 60% of customers believe solving an issue fast is the most important part of good support, which makes providing customer service on social media valuable because of its omnipresence and being the best instant chat channel.
Create Your
Social Inbox Now
Manage all social media customer support inquiries in a unified inbox.
Social Media Customer Service Statistics
Social media has brought an ever-increasing amount of empowerment to customers, and the way consumers interact with a brand. Instead of dialing the call center and dealing with wait time and agents with little or no knowledge of their issues, customers prefer to post their issues or call out a brand on social media to get an immediate response.
The stats below show why brands incorporate social media customer service.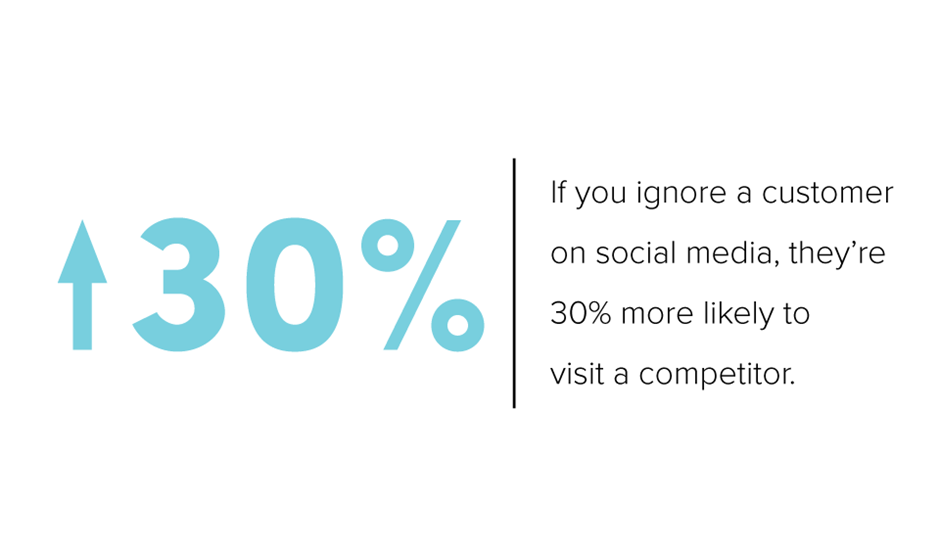 Along with more power is a growing set of expectations. Customer service expectations are rising every year, and brands need to evolve to meet them.
This article will present a retrospective analysis of traditional vs. social media customer service and the benefit of social media customer service.
Without much ado, let's get started!
Social Media Customer Service Vs. Traditional Customer Service
Not long ago, social media was a service channel of last resort, with consumers turning to it only after failing to get resolution in traditional ways, but this is fast changing. More customers now consider social as the first channel of preference for an immediate and easily accessible platform for customer service.
Social customer services are all about immediacy, transparency, personalization, human to human interaction, while traditional customer services are more often than not associated with queues, automatic responses, lack of transparency, and being transferred from one representative to the next.
Although for big companies' traditional customer services are necessary since scale equals survival, and call centers are the epitome of scale. That said, it cannot provide the desired customer experience. Long wait times, dropped calls, and restating a single problem dozens of times represent real pain points for customers looking to solve their problems.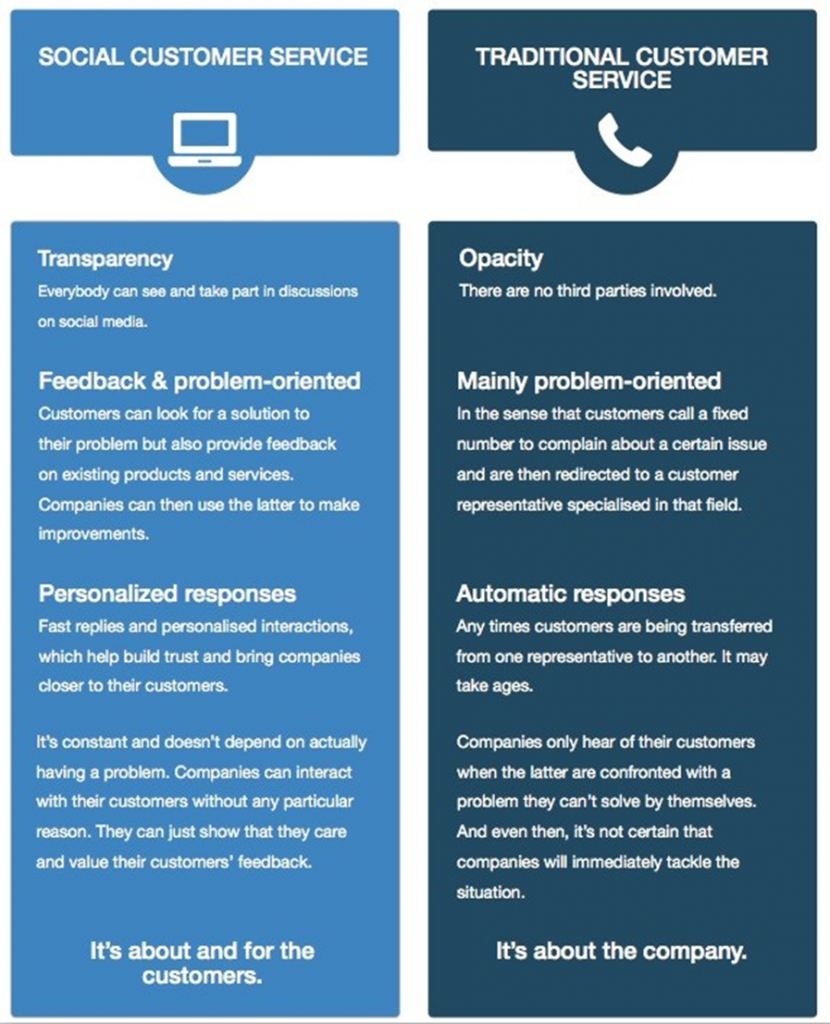 While in the past, consumers may have felt powerless to stand up to businesses alone, social media has given consumers the platform and power to share their stories, call out the brand and enlist the public's help to demand resolution or even restitution. Even a single call out for even an isolated issue has the power to spur thousands of retweets, memes, comments, and hash-tagged posts.
According to statistics, close to 46% of people have used social media to "call out" or complain about a business, and there is a great opportunity for brands to make things right once they've been called out.
Let's find out how.
The Call-out Culture
Call-out culture is typically defined as a phenomenon of calling out someone or a brand publicly, typically on social media, for something they've done in the past or present, whether it is a brand like Dove or a celebrity like Kanye West. If you've done something worth the attention, social media will find a way to come for you.
For several years, the call-out culture has become a ubiquitous part of social media and has turned out as a double-edged sword for brands. On the one hand, it can help brands shape their content and offerings, while on the other hand, one wrong step can the brand dearly.
A call-out can change the perception of the brand. Companies need to reconsider their social media customer service and pay close attention to any call-out, as one single comment can change all aspects of your business.

A right response at the right time in this call-out culture can present an opportunity for brands to take back control of the conversation with a captive audience. If brands take care in drafting thoughtful, relevant, empathetic, and helpful responses to a call-out, they are more likely to retain their existing customers and might open doors for new ones too.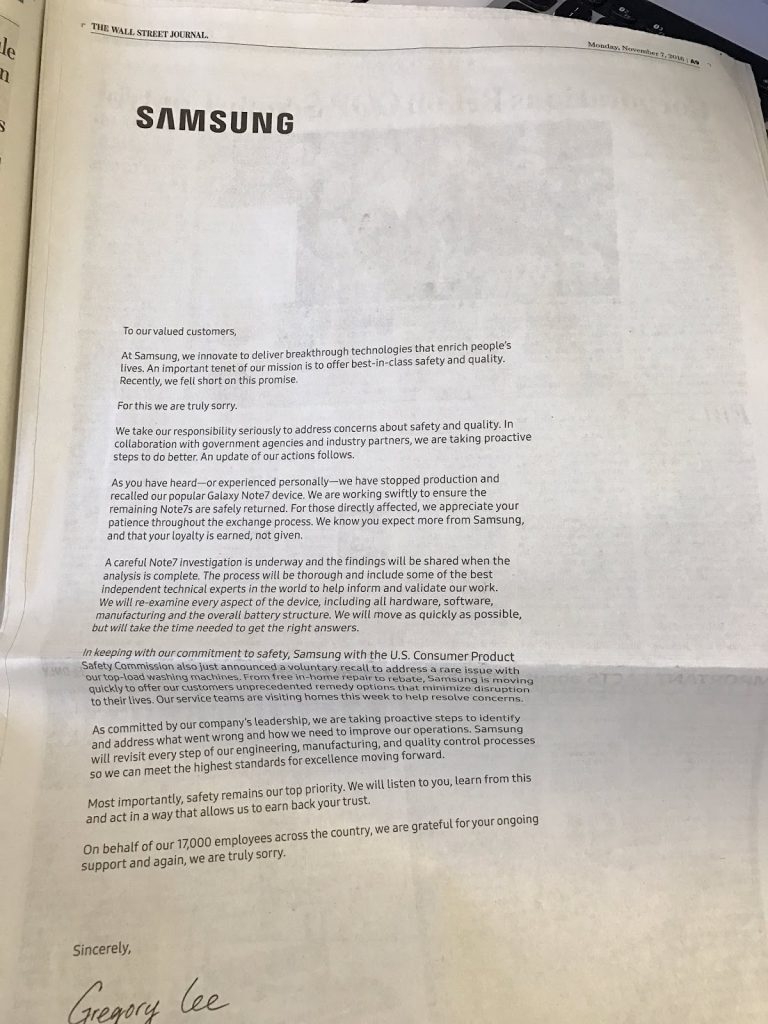 A call-out on Samsung forced it to end the production of its Galaxy Note 7 smartphone in October 2016 after its faulty devices began exploding. However, Samsung released full-page newspaper ads owning up and apologizing for the issue, followed by launching a series of TV ads featuring discussions of engineers regarding testing the safety and quality of their latest releases.
Their commitment to transparency was so great that despite the initial drop in their sales, Samsung's comprehensive response led to their highest third-quarter profits in three years.
It has been well proven that a good response to a call out on social media can positively impact the brand with the power of response.
Is Customer Service on Social Media Better than Traditional Customer Service?
The best way to answer this question is by analyzing the present challenges in the traditional customer service channels.
Calling a Customer Service Line
Finding the correct phone number is the first battle for any customers who are trying to reach out to the brand for help. And once they ‌find the customer care number, they have to then deal with long waiting times, multiple transfers, and annoying hold music before they can get to someone who can solve their problem. It is altogether a frustrating experience.
Submitting a Contact Form
Customers dislike contact forms. The reason behind that is they have no idea about where the information goes after they hit the "submit" button. It can sometimes be a little confusing and feel impersonal because they aren't sure what to expect in the reply.
Sending an Email
We all know how emails pile up every day. You can even lose an important email in the crowded inbox. However, when you get to the email, it may take days for customers to hear ‌from you, which makes them more annoyed.
Compared to email, it is relatively easier for consumers to voice their concerns over social media. On average, every person spends 2+ hours a day on social media messaging services.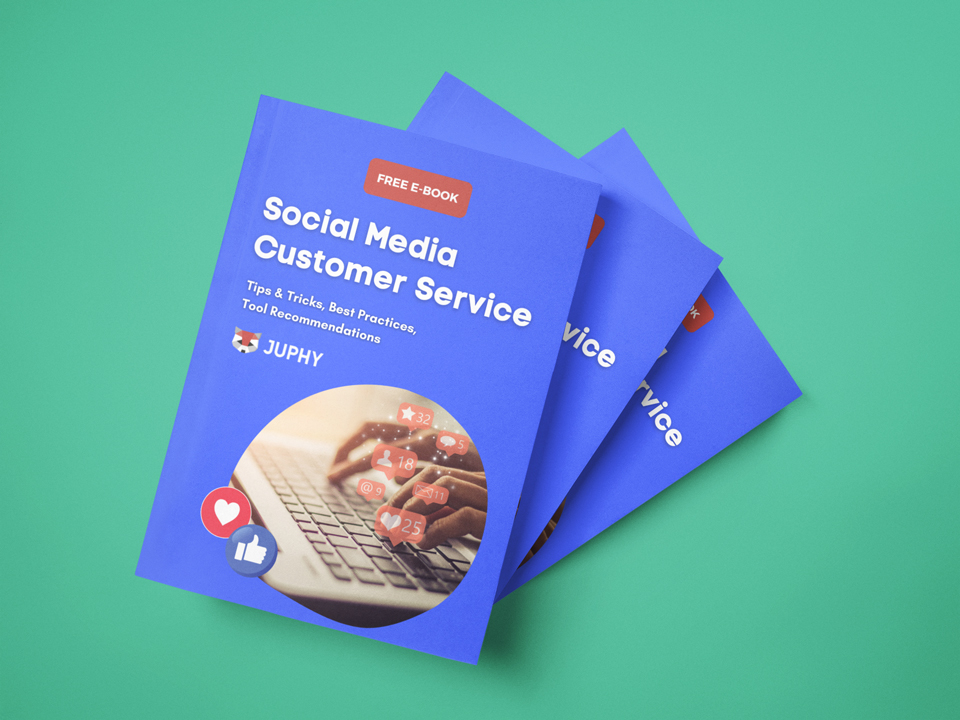 Social media customer service is providing customer support on social networks. All you need to know about social customer service is in this free e-book. Download it for free now!
What Are the Main Benefits of Providing Customer Service on Social Media?
Call-out Resolution
When customers call out problems in public, it may seem counter-intuitive. However, if handled correctly, it can be a public relations win for brands. By responding to a customer's complaint, concern, or problem wisely and publicly as you prove a point to your customers that you take their issues seriously.
If consumers see you respond quickly to a concern and attempt to resolve it to everyone's satisfaction, the customers will view your brand as the one that cares about them and not just about sales and profits.
Next-level Interactions
By monitoring your brand's social media mentions, you can reach out to consumers and positively surprise them. For instance, CitiBike replied to a customer's tweet regarding a biking mishap by sending him a gift card for a new pair of jeans.
The customer was delighted and responded by tweeting about the experience. CitiBike didn't just make the customer's day – they also benefited from the transaction.
24/7 Customer Service Option
Thanks to social media, customer service is a click & a second away. Due to longer wait queues, customers often flock to social media websites to express their concerns in the hope of a quick response. And this usually works out, as the social media team then connects the customer to the concerned team in no time.
Increased Customer Loyalty
The best way to grow a business is not just to gain new customers but to retain the existing ones too. And social media is one channel that connects you with your audience like no other, even for customer service. Social apps allow you to share media to support your concern, which reduces the overall turnaround time and advocates a smoother process.
Social Listening
Proactively listening or social listening about what consumers are talking about your brand can help you engage them better. With AI-based tools, you can filter and segregate from thousands of comments, reviews, and social media mentions to gauge the general judgment about your brand. You can also figure out the most common problems and resolve them by posting relevant content on your social media handles.
Get Started With Social Media Customer Service with Juphy!
Juphy-An award-winning, highly recommended, and all-in-one social media management platform that provides an easy route to manage all your social media interactions and reduces the response time by managing everything efficiently.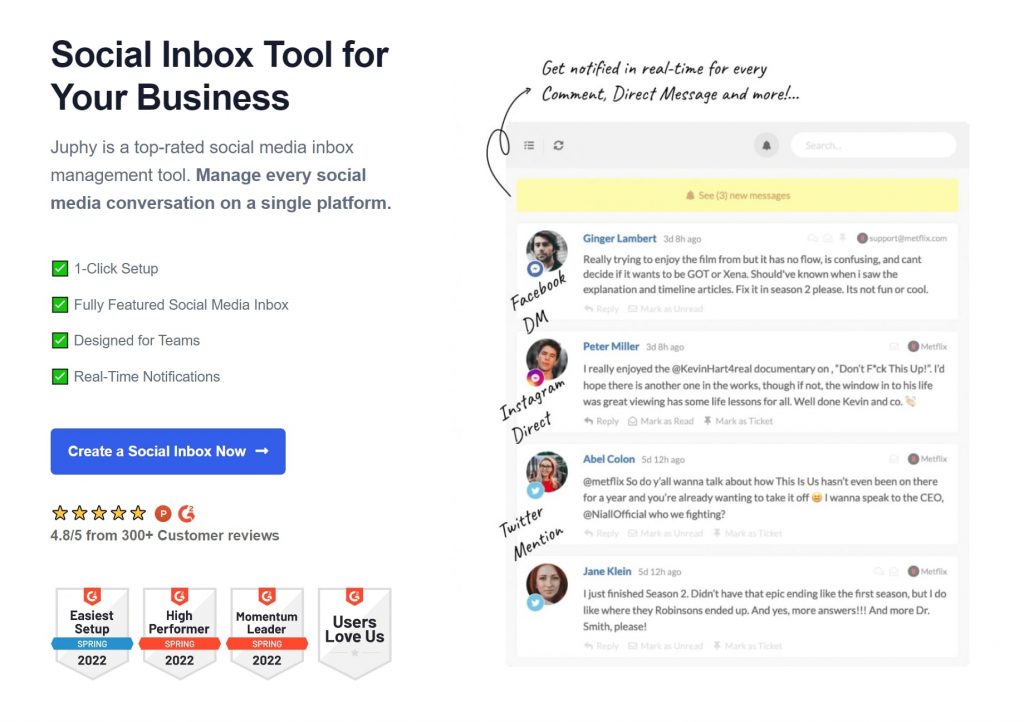 It allows you to target specific audiences effectively through personalized messaging and canned responses. It also monitors all your interactions, conversations, and audiences and generates performance reports for you to analyze your performance and develop new strategies.
Juphy helps to:
Reduce response time on social media
Create canned responses to answer F.A.Q
Collaborate with team members in real time regarding customer inquiries
Automatically classify incoming messages based on sentiment or keyword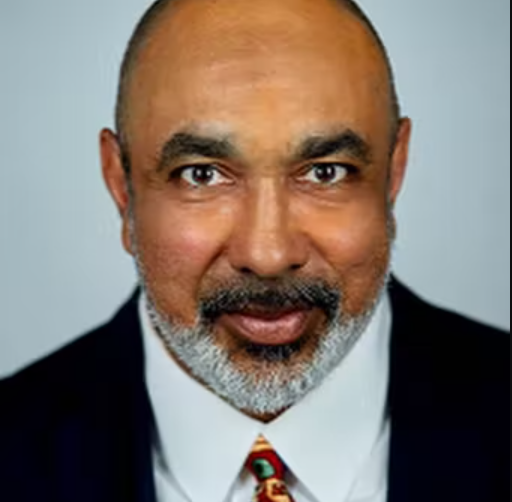 Shoan Snoday
Digital Marketer
"WE have been using Juphy and it has helped us 2x our company with one word … ENGAGEMENT! We were really struggling following up with all of our social media comments and interactions and Juphy helped us connect and engage with every single prospect AND helped us convert 33% more leads in our first week using Juphy. Our customer service department is happier."
✓ Product Hunt Verified Review
Juphy empowers you with
The ability to view and interact with all the social media user engagement on a single dashboard
Integration with diverse apps along with real-time messaging and live chat support
Allows file sharing
Ease of use and 1-click setup
No credit card information is required for a 7-day free trial
Conclusion
In a digital world with digital customers, companies must step out of the traditional and embrace new forms of reaching out to their customers and providing best-in-class customer service. Social media is one of those channels and is constantly gaining traction.
Social media customer care encourages brands to stay engaged with the audience, promotes positive brand mentions, boosts sales, and enhances customers' loyalty.
If customer service isn't a part of your social media strategy, it's time to rethink things and join hands with Juphy as it helps you reach (and exceed) your social media goals.
Let's get social with Juphy!
Create Your
Social Inbox Now
Manage all social media customer support inquiries in a unified inbox.
Related Article – Outstanding Social Media Customer Service Examples