Metaverse seems to be the shiny new buzzword, and everyone is talking about it. Meta, formerly known as Facebook (as many know it), is not just a name change. With it comes more significant changes that could impact the way we do business. It could also open up new doors of opportunities for advertisers.
Meta constantly offers guidance to advertisers, creators, and marketers. It added more insights to its Facebook ad library and enabled brand safety controls and reporting tools. Recently, Meta has reworked its ad transparency instruments by launching Meta's Advertiser Success Center. It helps advertisers access certain information about ads and learn about brand safety tools. Moreover, it empowers advertisers to create a campaign to promote their product or service. 
If you are curious and want to discover more about the new launch of Meta, you are on the right page.
But, for starters, let's shed light on the evolution of Metaverse.
Without much ado, let's get started.
Create Your
Social Inbox Now
Manage all social media customer support inquiries in a unified inbox.
The Evolution of Metaverse
Facebook officially rebranded itself as Meta in October 2021, which combines social media with virtual and augmented reality. The rebranding will not apply to company-owned platforms, i.e. Facebook, Instagram, and WhatsApp; instead, the parent company has been renamed.
To simplify, Meta represents a belt under which Facebook, Instagram, Messenger, WhatsApp, and Oculus are encapsulated under one roof. The rebranding won't be affected by the social media platforms and will still be called the same.
According to Mark Zuckerberg, the founder and chief executive of the company, the word 'Meta' is a Greek word that means 'beyond', symbolizing that there is always more to create.
Meta is more of an evolution in a vast ecosystem, full of gateways, platforms, and infrastructures to enrich the digital customer experience. It commits to developing the immersive digital world known as the Metaverse.
With the growing popularity and obsession, the Metaverse could represent a $1T market by the end of the decade, as per the CB Insights' Industry Analyst Consensus.
Meta introduces people to shared virtual worlds and experiences across different software and hardware platforms. The Metaverse allows businesses to stay up-to-date with their products and new technologies.
Since Meta was launched, it has pursued a sweeping transformation by introducing several new tools and features for businesses, including the recently released Advertiser Success Center.
But what exactly is the Advertiser Success Center?
Let's find out!
What Is the Advertiser Success Center?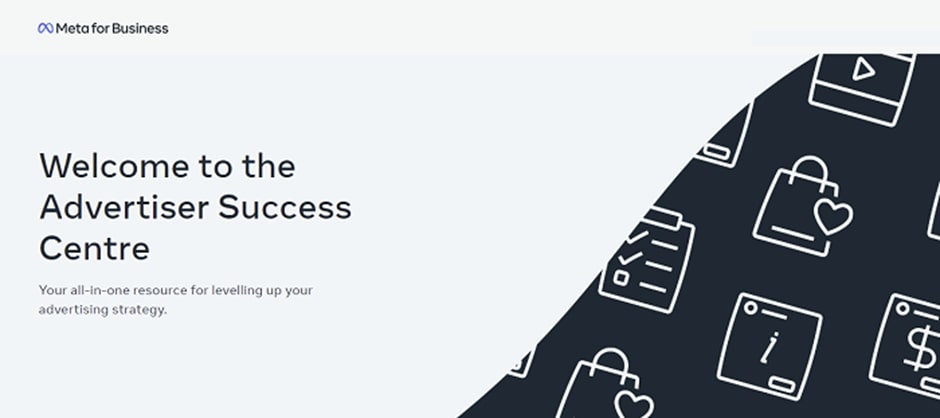 Meta's Advertiser Success center is an end-to-end new ad education platform for advertisers, which incorporates several sources and instruments to execute campaigns on platforms and for social media marketing best practices.
The Advertiser Success Center includes a step-by-step guide to the basics of advertising along with creative tips for advertisers for all Meta platforms. It is an all-in-one resource hub that houses advertising strategies such as:
A basic guide for budgeting, setting up for auctions, finding audiences, choosing objectives, getting creative, and setting up auctions.
Creating ad strategies, captivating videos, and developing ad experiments.
Success tips to set up ads on Instagram & Facebook and get creative through continuous education.
The Advertiser Success Center merges educational resources with the execution tools for running successful campaigns on all Meta platforms. Any advertisers of all levels, be they a beginner or a professional, can access the hub and make the most of it.
The mini-site of Meta's Advertiser Success Center contains dedicated sections of information on all the various ad tools and options of Meta. It spotlights a range of tips and links to further reading and resources to improve your social media marketing game by leveling up your advertising strategy.

While the information displayed here is not new, it's merged and grouped neatly within each section according to relevance, making navigation easier according to the needs. Simply follow the tab links to more specific information sections about each category, including practical notes on improving your approach.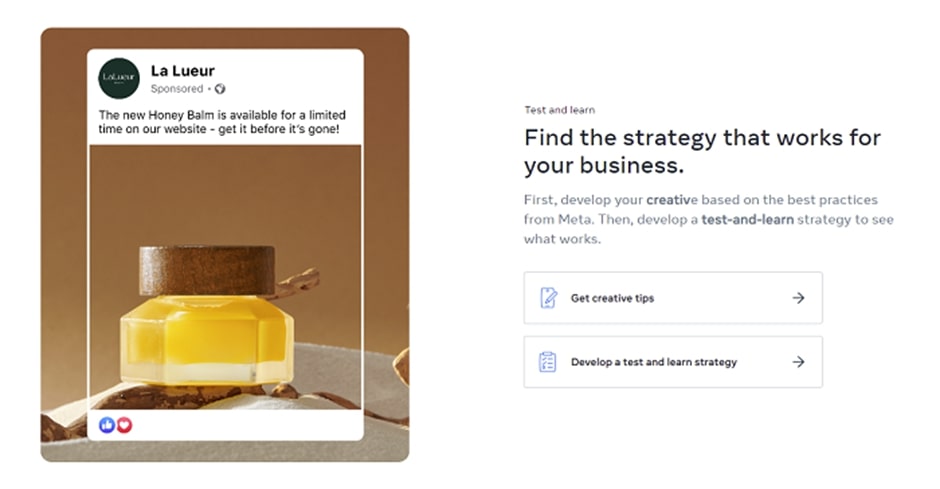 The Advertiser Success Center also incorporates links to Facebook Blueprint courses to amplify your knowledge further. It also has Help Center articles and links to ensure advertisers can maximize their campaign knowledge.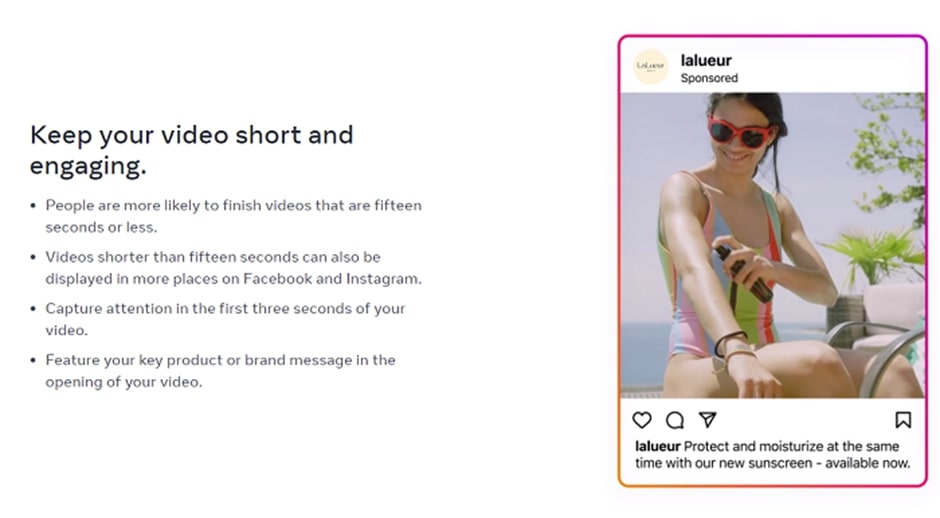 How Can Advertiser Success Center Benefit Businesses?
Helps to Get Started for Success
Meta helps to set ads for success with the ad auction, where your ads compete with other ads trying to reach the same audience and helps your ad reach the most people and give your ads a competitive edge.
Choose the right objective for your business goals.
Find an audience interested in your business.
Give your ad enough budget for the results you want.
Set a long enough duration to find the right audience.
Grab audience attention with creative best practices.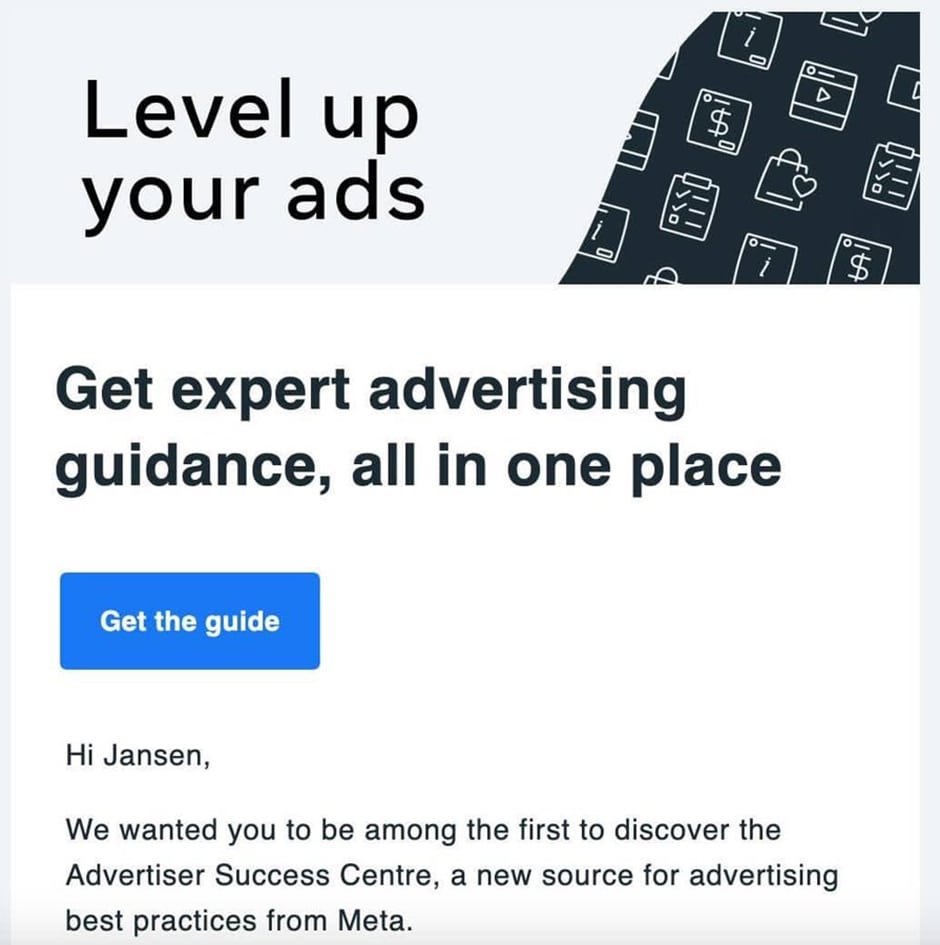 Test and Learn Best Strategies
Advertiser Success Center helps businesses to find the best strategies that work for businesses. It helps to develop their creativity to put their product/services at the front and center based on the best practices from Meta. Users can then create a test-and-learn strategy to test the ad copy's different elements to find what appeals the most to your audience.
Grows Your Business Presence
Advertiser Success Center helps businesses to build their ad strategy with continued education. Users can access the best practices for video ads and tools to create captivating videos that will give their ad an edge in the auction and increase customer engagement. Users can also check out more resources for their business, learn new skills, and get more tips to continue growing with Meta.
Ad Targeting
The Advertiser Success Center offers numerous resources and tools to optimize advertising campaigns. It integrates educational resources with helpful tools to equip advertisers with complete information. From selecting the right audience to set up your campaign, the Advertiser Success Center includes a step-by-step guide to setting up your ads and running a successful ad campaign.
How Can Juphy Work Wonders with the Advertiser Success Center?
Juphy can help businesses scale their social media management team even further when incorporated with Meta's all-in-one Advertiser Success Center.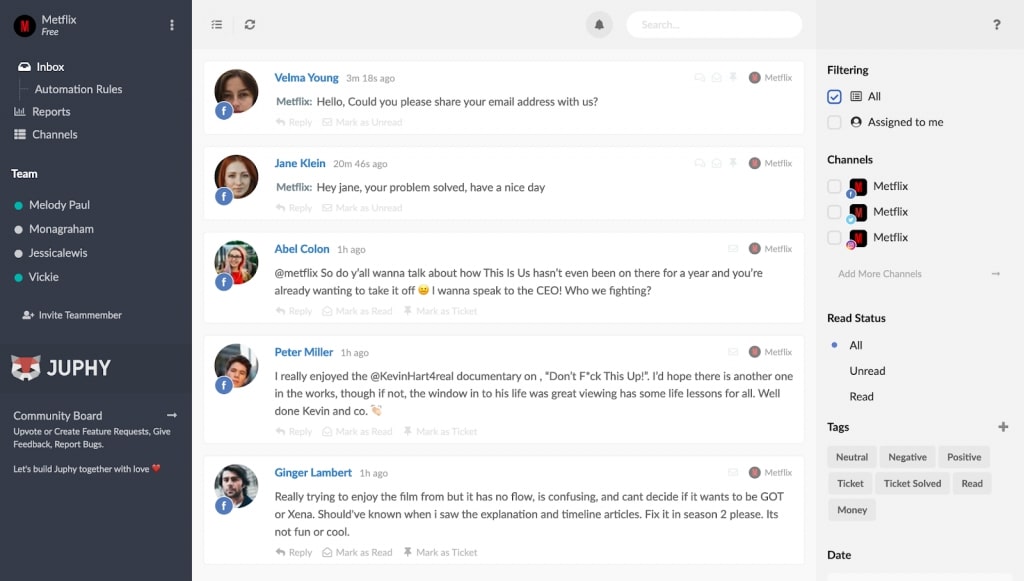 You can monitor and manage Meta (Facebook + Instagram + Whatsapp) engagements, including Facebook ad comments via Juphy.
Juphy is a highly rated, all-in-one, end-to-end management solution and one of the best social media engagement management tools because it offers unique features for marketers, social media teams, and executives.
Juphy allows you to interact with your social media audience wherever they are on the web from a unified social media inbox. It helps you merge all your social media accounts with a single sign-in option to engage with your customers effortlessly.
Integrating your Facebook page with Juphy can empower you to manage all your channels, comment activities, and messages directly. In addition, all the notifications, messages, and comments will show up on one dashboard, making managing Facebook comments and messages easier.

With real-time notifications, your social media management will reach its peak, as you will never miss any comment, feedback, review, or complaint.
One of the primary advantages of incorporating Meta's Advertiser Success Center with Juphy is that it offers managing Facebook ad comments as well. Also, its analytic features can further help businesses to understand the customers' interests, behaviors, and motivations on social media to provide them with better content more suited to their needs.
Furthermore, Juphy also provides custom reports that enable businesses to view their overall social media engagement rate, channel performance, audience performance, and customer support team performance.
Let's hear from one of Juphy's happy customers:
Final Words
The Advertiser Success Center is a good way for advertisers to create ad campaigns to promote their products/services, manage their ads, and reach a wider audience. The Advertiser Success Center can improve marketers' knowledge about ad targeting and approaches to generate better results.
Meta's new learning platform serves as a specialized data center that links users to various resources that offer different levels of knowledge where advertisers can build, develop, test, or learn about a specific strategy, which can further be employed to create campaign videos.
The Advertiser Success Center could prove worthy if Facebook and Instagram are your main campaign channels. You can employ this all-in-one resource for leveling up your advertising strategy and sign up for Juphy, an all-in-one social media management tool for excellent results.
Level up your advertising with Meta's Advertiser Success Center incorporated with Juphy.
Create Your
Social Inbox Now
Manage all social media customer support inquiries in a unified inbox.
Related Article – Social Media Engagement: The Ultimate Guide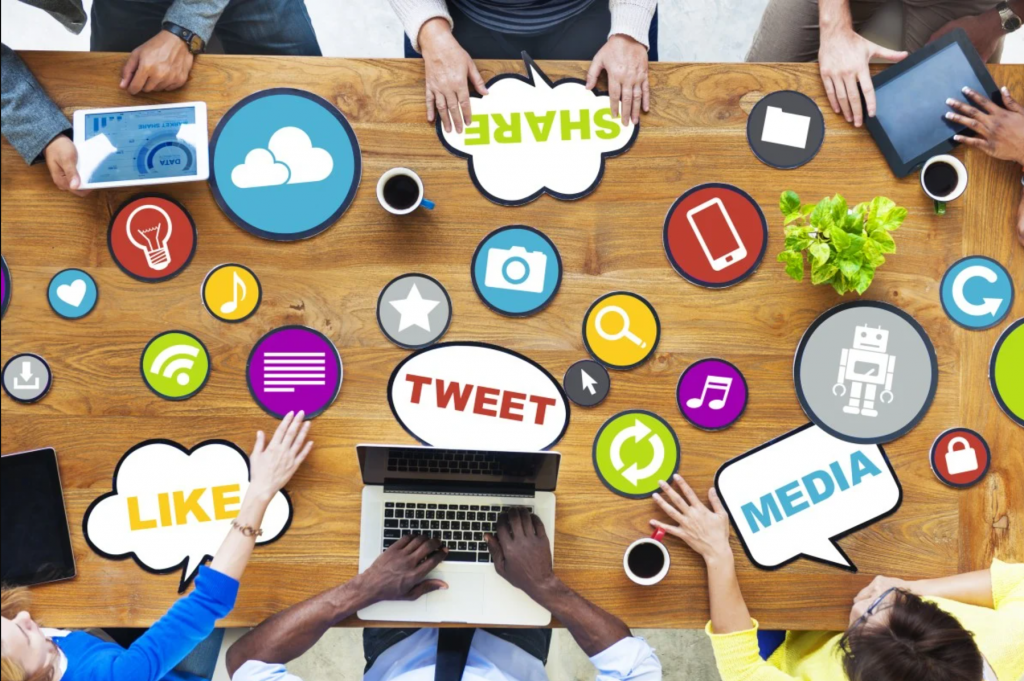 Your business needs a solid social media engagement strategy to succeed. This guide will provide you with all the tips & tricks you need. Read now!