Social media management has become a crucial element for businesses. While almost every business acquires a social media management tool, that fact helps brands grow and thrive. Quick and efficient social media management can be provided with the right tools. So, how can you consolidate your social media feed? What are the best tools to manage social media?
Create Your
Social Inbox Now
Manage all social media customer support inquiries in a unified inbox.
What is Social Media Feed?
Social media feeds are the tools that produce content for many social media accounts. Feeds provide brand content on different platforms in a particular arrangement. This way, your social media collector can reach your social media accounts, collect mentions about your brand from the other social media accounts, manage all social engagement from different platforms and display them in the summary feed. In short, social media feeds are the tools that can create and synchronize content.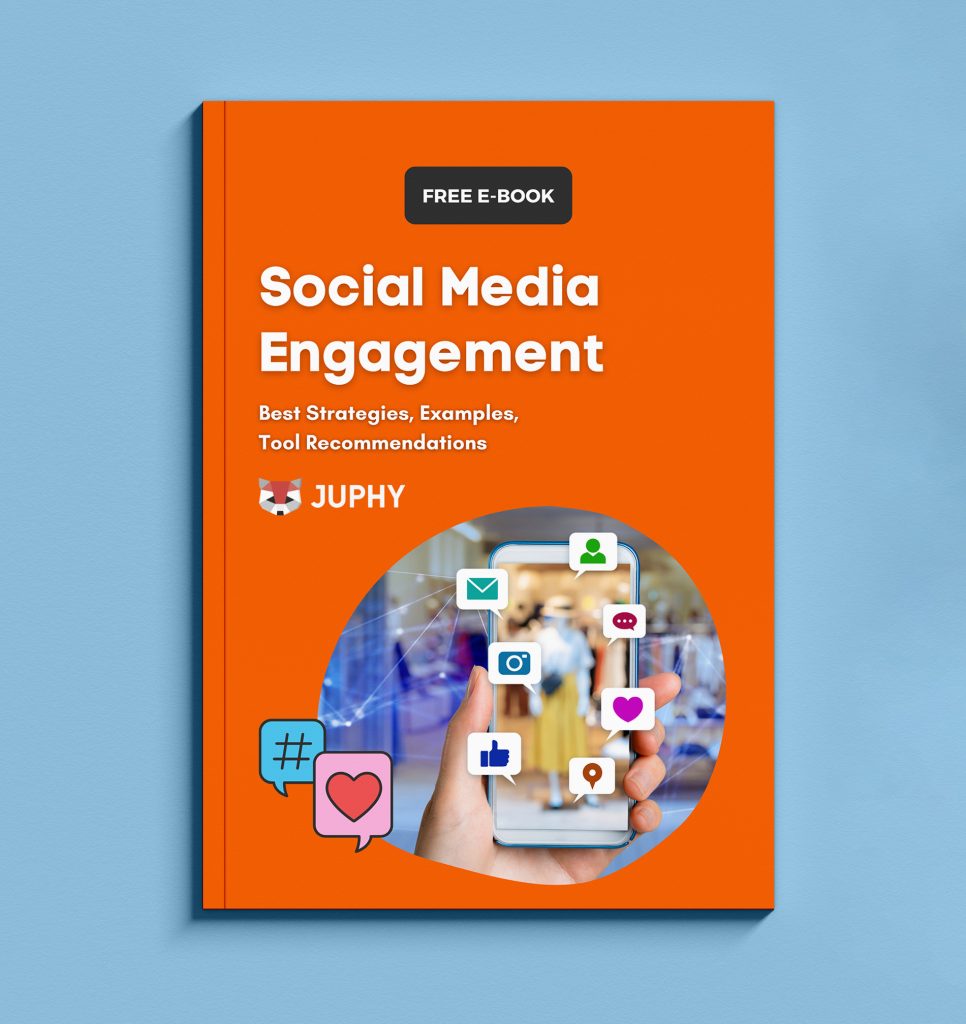 Social media management does not only consist of publishing content. As a business, you need to monitor and manage your content's engagement. This guide will provide you with all the tips & tricks you need. Download it for free now!
How Do You Consolidate Social Media?
Businesses should communicate on multiple social media platforms to maintain a strong customer relationship. That means different arrangements for each platform. To create an efficient and sustainable bond between your brand and target audience, your social media manager should provide various posts and strategies for customers on different social media platforms. At the same time, you can achieve better management by following the recent social media trends and posting accordingly.
You can automate your social media management, report analysis, and take over control with the right social media management tool. You can help your brand grow by producing content with a tool that provides these qualifications. In this way, you can consolidate your social media accounts with your determined social media management tool.
Is There Any App That Converges All Social Media?
It might be challenging to manage your various accounts on social media platforms. Using a social media management tool is necessary to ensure efficient social media management. Social media apps that are created to facilitate that process have features that help you share on multiple platforms and create a layout by providing a system connected to your brand's website. Managing all social media platforms from a single space delivers successful social media management, and there are many apps for that purpose in the market.
How Can I Manage All Social Media Platforms From a Single Place?
Personal or corporate businesses. Both of them need a successful marketing method. One of the best ways to achieve a successful marketing strategy is to manage your social media correctly and efficiently. Social media management tools arrange more than one platform on a single space in an order, which allows you to regulate your accounts with a manageable system.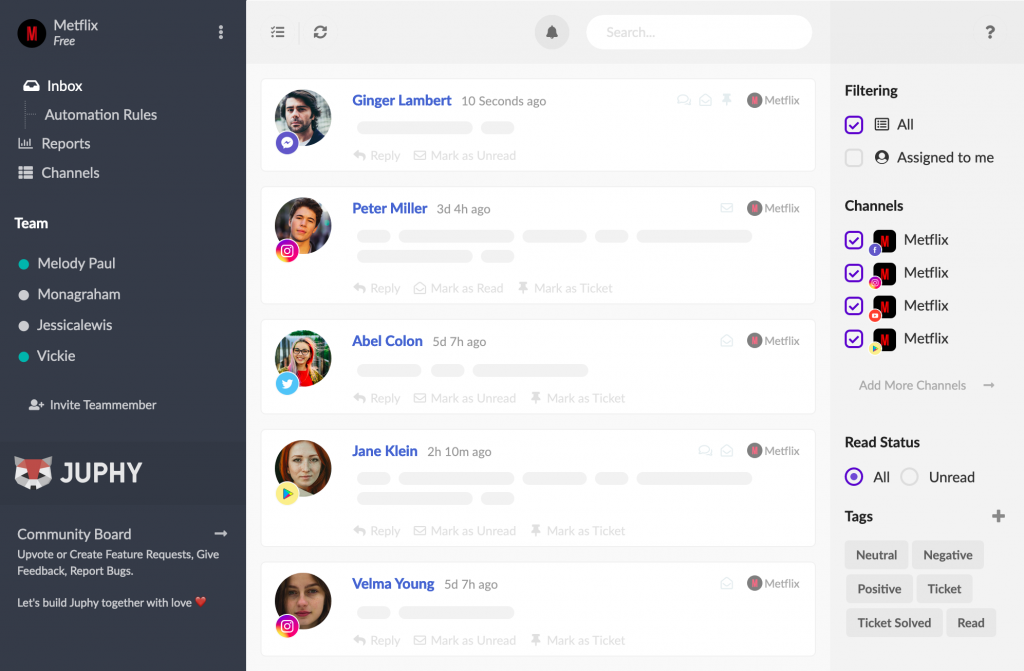 Benefits of Managing Social Media With a Single Tool
Businesses are aware of the importance of social media in marketing and customer relationships. Nowadays, investments in social media create significant competition between companies. That's why the interest in social media management tools increases every day. You need a good social media management tool to turn the competition back in your favor. We can list the benefits of these tools for your brands below:
1) Strengthens the Relationship Between the Business and the Customer
Accessibility of your brand establishes sustainable customer relationships and ensures an easy adaptation for your new customers. Customers are very likely to communicate with brands on social media. To proceed with customer relationships, you must pay attention to their questions, criticisms, and compliments.  Therefore, you can ensure customer retention and new customer participation for your brand with quick and adequate management by having a social media tool, just like Juphy. Additionally, you can acquire a tool that records your customer experience history to personalize your relationship.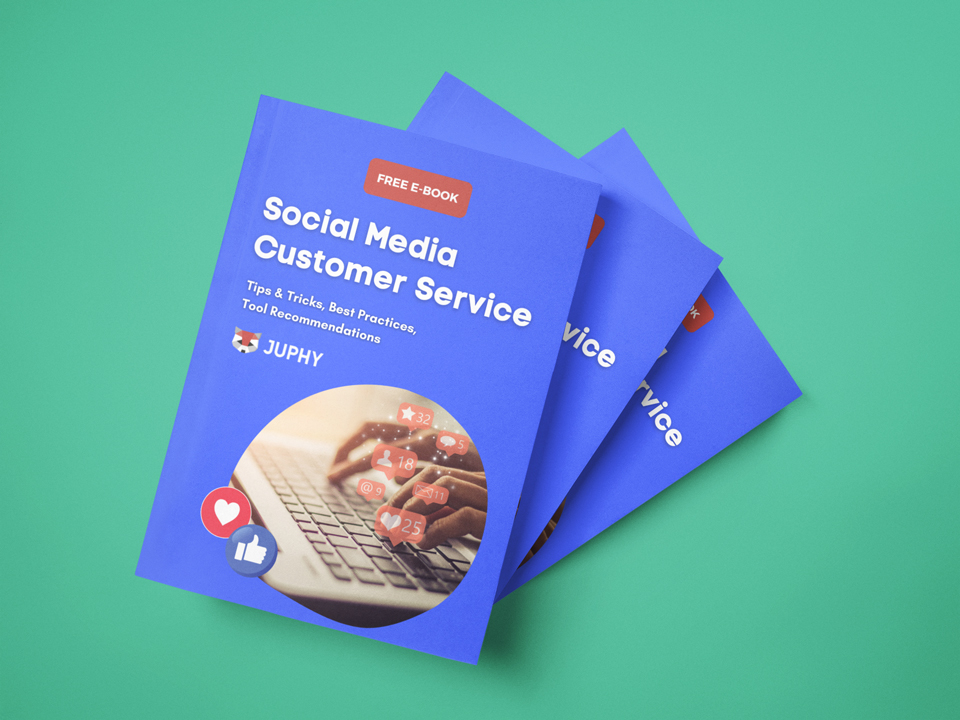 Social media customer service works through managing social media engagements and providing customer support on social networks. All you need about social customer service is in this free e-book. Download it for free now!
2) Tracks Keywords
You can predict and prevent crises by tracking related keywords beforehand. Responding to customers about their constructive and destructive criticism is possible with this tracking. In this way, you can monitor the conversations and oppose the wrong evaluations of your products. That will prevent the bulk criticisms that might hurt your brand reputation.
3) Analysis Performance Measurements
You need to evaluate your performance measurement analysis well to prove that you follow correct strategies or develop new ones. A good social media management tool delivers data analysis that might help your brand grow and thrive, so you can make your strategies and proceed.
4) Provides Participation With Mobile App
You can have uninterrupted communication by providing social participation wherever you are and whenever you want. You can take control with a mobile app to maintain good management even when you don't have a computer with you.
5) Analyzes the Reports
Analyzing and exporting your social media reports allows managers in your organization to easily find the places they want to examine and send feedback.
5 Best Social Media Management Tools of 2022
Suggestions for tools that will make your work easier in social media management are as follows:
HubSpot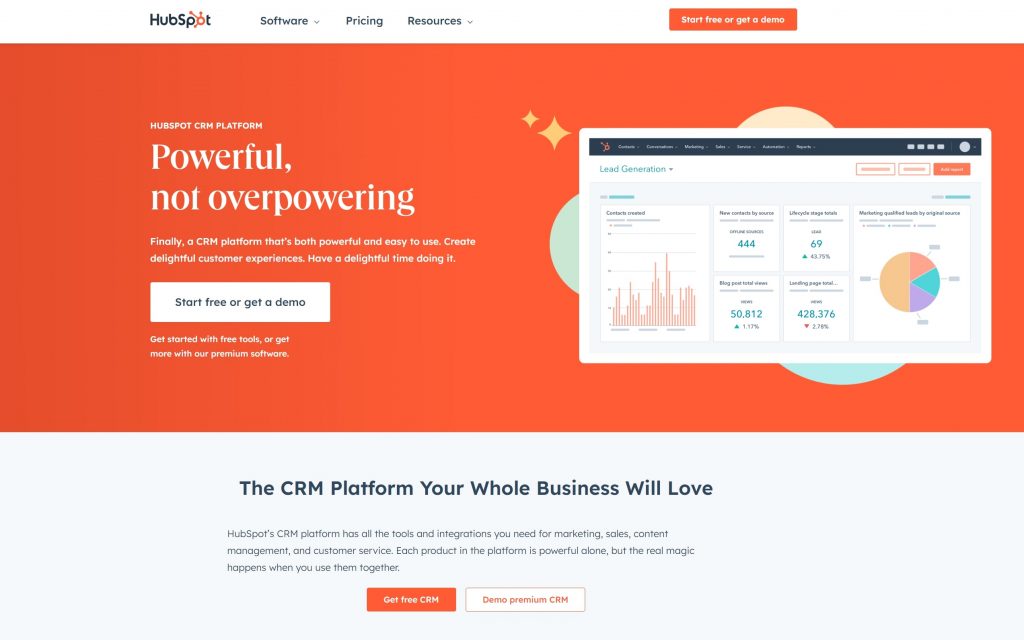 HubSpot is a social media management tool that provides all the integrations you need with features in subjects such as sales, marketing, customer services, or content management. HubSpot records all the communication activities during customer relationships, allowing you to evaluate the messages and feedback as a whole. The best way to spend your time effectively is by obtaining a tool that correctly arranges your relations with the customers.
Features
SM Content Publishing
Email and Online Marketing
Customer Management
Campaign Management
Social Media Marketing Management
Reporting and Analysis
Platform and Interface Management
Pros
Has an all-in-one software thanks to its wide functions
Allows easy installation
Enables observing and filtering performance data from each level.
Provides an organized installation
Offers easy management with the goal identification and a single point for all the concerns with campaign management
Cons
Integration with project management tools might be a problem
Advertisement scheduling might be a tedious task because of the lack of bulk editing and updating
The cost might be high depending on the contact list
Sprout Social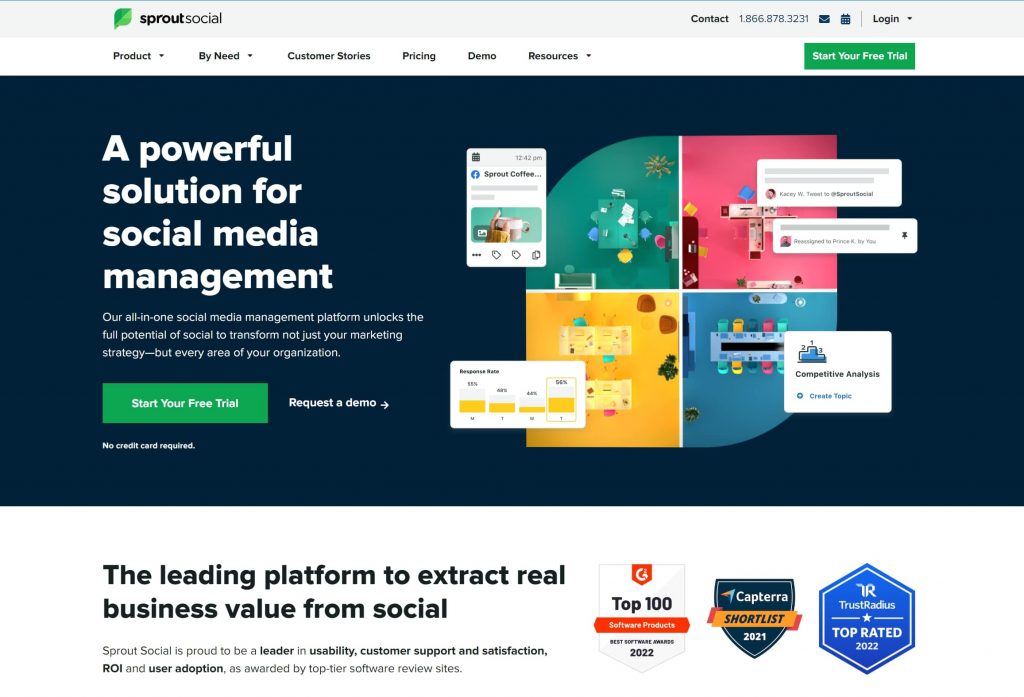 Sprout Social provides features in terms of marketing, customer services, and data analysis for easier social media management for important brands and agencies. Since it is one of the all-in-one social media management tools, it is highly sought after in areas such as usability, customer service, customer satisfaction, and return on investment.
Features
Listening and Monitoring Management
Publishing Features
Interaction Management
Marketing Management
Channel and Integration Management
Reporting and Analytics
Account Management
Pros
Provides Sprout link feature that enhances app integrations
Has the flexibility to plan the most appropriate post multiply and individually
Provides level and goal identifications with analytical reports
Informs you simultaneously about trends with the social listening feature
Cons
Integration for LinkedIn pages is weak
Endorsements and task assignments require an additional fee
Multiple photos are not automatically replied to on Instagram, it is done manually.
Hootsuite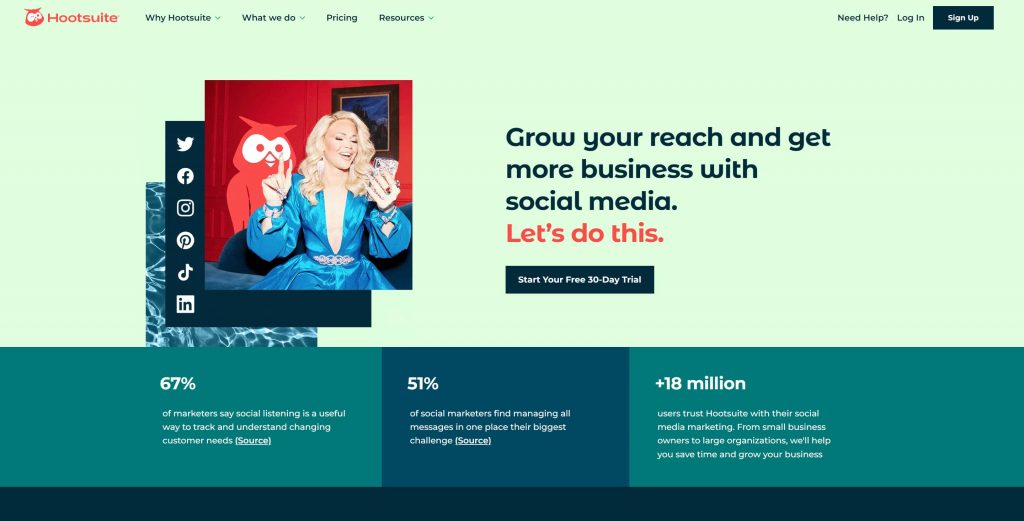 You can manage all the customer channels from a single and simple platform with Hootsuite. Hootsuite helps brands create a brand and develop by integrating social media into all fields of the brands. It provides many qualifications that enable user activity as a social media management solution.
Features
Publishing Management
Interaction Management
Marketing Management
Listening and Monitoring Management
Channel and Integration Management
Reporting and Analysis Management
Account Management
Pros
Provides a user-friendly dashboard
Allows planning promotion content
Offers a reporting system that measures activeness and passivity with the analytical function
Cons
It might be challenging to tag other brands and businesses on the timer.
Reporting is not always matching with the statistics of the social media platforms.
Buffer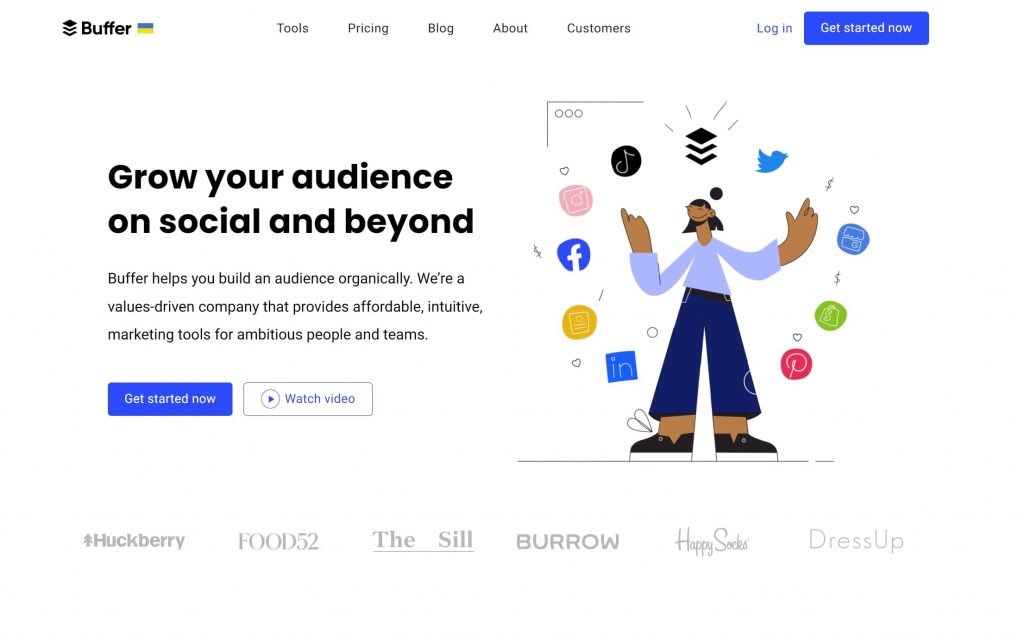 Buffer is a social media management tool that guides brands in receiving effective participation and results for social media. It is among the tools that provide more efficient and faster workspaces for brands, businesses, agencies, and individuals.
Features
Publishing Features
Reporting Features
Account Management
Integration Management
Pros
Provides a user-friendly interface
Available for both personal and professional use
Allows multiposts simultaneously
Cons
The packages might cost high prices
Different appearance layouts are required
Juphy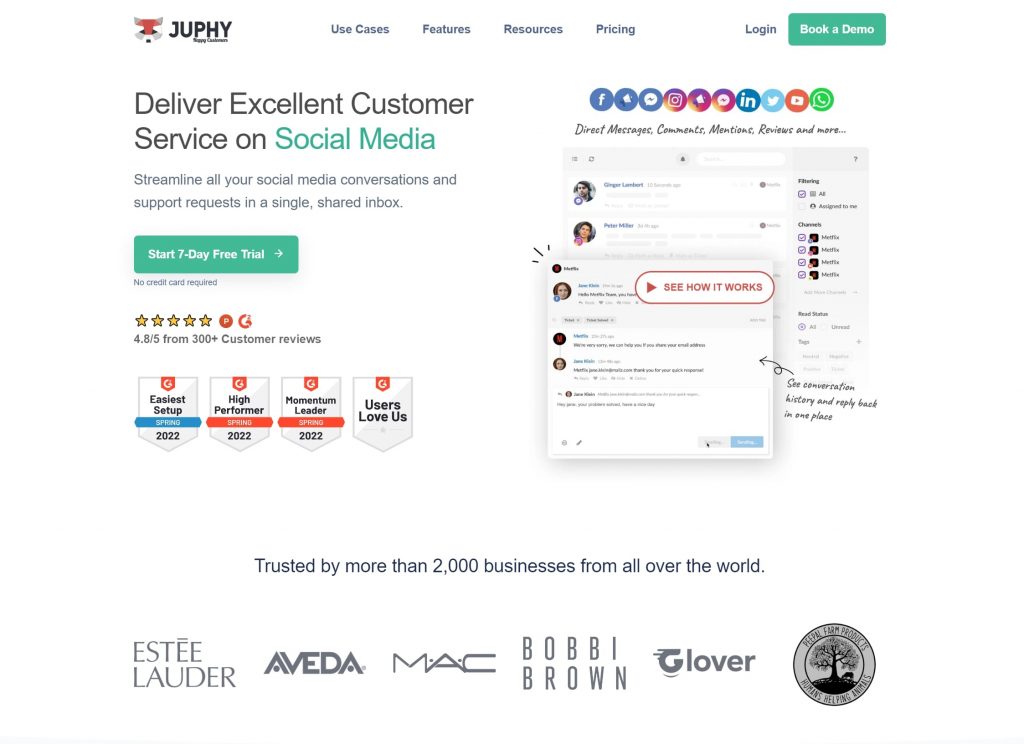 Juphy helps you maximize the comfort of your relationships with customers as a business. With Juphy's excellent features, you can provide good management from every point with one click. These time-saving features include:
Features
Engagement/Interaction Management
Performance Reports
Team Collaboration Management
Unified Inbox
White Label Management
Automation Rules
Canned Responses
Pros
Delivers a well-organized ticketing system
Provides an easy user experience with its simple interface
Supports all the important social platforms
Offers efficient management with a single omnichannel dashboard
Allows easy switches between browsers
Cons
Doesn't offer publishing features
Only business social media accounts can be added

David Hooper
Production Expert
"Juphy has been great for my connection with customers and social media followers as it allows me to put everything in a single "inbox" and easily reply via multiple channels at the same time. Customer service and communication have been great and it's something that I use daily. I highly recommend it for anybody doing social media or in need of a good customer service option."
✓ Product Hunt Verified Review
You can make a conscious decision with the efficient and time-saving social media management of Juphy. Juphy delivers well-planned social media management with a unified inbox. You can test Juphy's features during the 7-day free trial period. If you are also looking forward to benefiting from Juphy's convenient features and ensuring easy social media management, you can visit Juphy's website.
Create Your
Social Inbox Now
Manage all social media customer support inquiries in a unified inbox.
Related Article – SPOTIFY's Social Media Customer Service Performance