If you are involved in e-commerce, it is likely that you are active on social media, getting in touch with your customers and prospects through DMs and instant messages. To create a seamless shopping experience and increase accessibility, many companies add widgets for instant communication on their websites and Shopify stores. WhatsApp Chat Widget is one of those tools, and as a highly popular messaging app, it can help your business both in lead generation and sales. Let's dive deeper into the subject and find out about the whys and hows.
Create Your
Social Inbox Now
Manage all social media customer support inquiries in a unified inbox.
What Is WhatsApp Chat Widget?
A WhatsApp Chat Widget is the green, bouncy thing that usually resides in the lower right corner, urging you to engage with the brand if you seek customer service. It can be used both on web browsers and mobile and enables direct communication between customers and businesses without leaving the website or app.
While WhatsApp Chat Widgets work as live chat tools, they can also be programmed to send automated messages upon being triggered.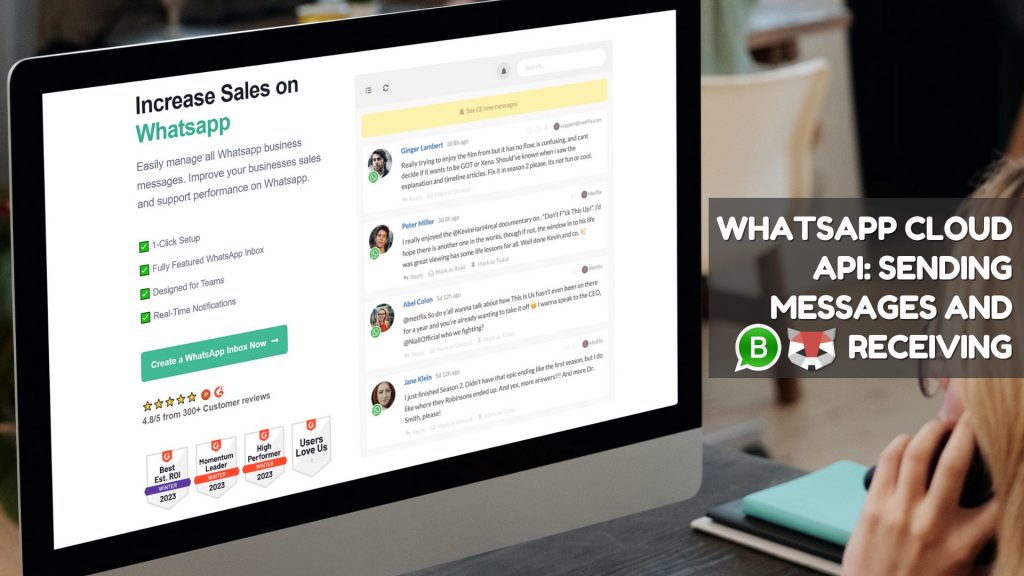 Why Add a WhatsApp Chat Widget to Your Shopify Website?
Businesses usually utilize WhatsApp Chat Widgets to offer customer support, respond to customer queries, provide sales assistance, or engage with website visitors more effectively to generate leads. They can be customized in terms of appearance, placement, and functionality to match the brand's needs. Adding a WhatsApp chat widget to your Shopify website can offer several benefits for your business, such as;


Instant communication: With at least 2 billion monthly active users globally, WhatsApp enables convenient conversations between customers and brands. For customers, it is a familiar channel. Reaching out to the brands instantly can enhance customer satisfaction and increase engagement.


Improved customer support: As an instant messaging tool, WhatsApp helps you offer real-time support to your customers. This can help you address customer concerns promptly and provide a personalized experience.


Increased conversions: By enabling customers to chat with you directly on WhatsApp, you can collect leads and guide potential customers through buying with personalized assistance and relevant recommendations. This can help build trust and increase the likelihood of conversions.


Global reach: Since Shopify websites can be reached by users worldwide and WhatsApp is a globally popular messaging app, add a WhatsApp Chat Widget to your business if you target international customers. Also, if you want to increase your sales through mobile, you can further benefit from the widget, as WhatsApp is predominantly used on mobile devices.


Enhanced customer service: WhatsApp Chat Widgets enhance customer service by helping you provide proactive engagement, personalized support, and multimedia features while improving accessibility and first response times.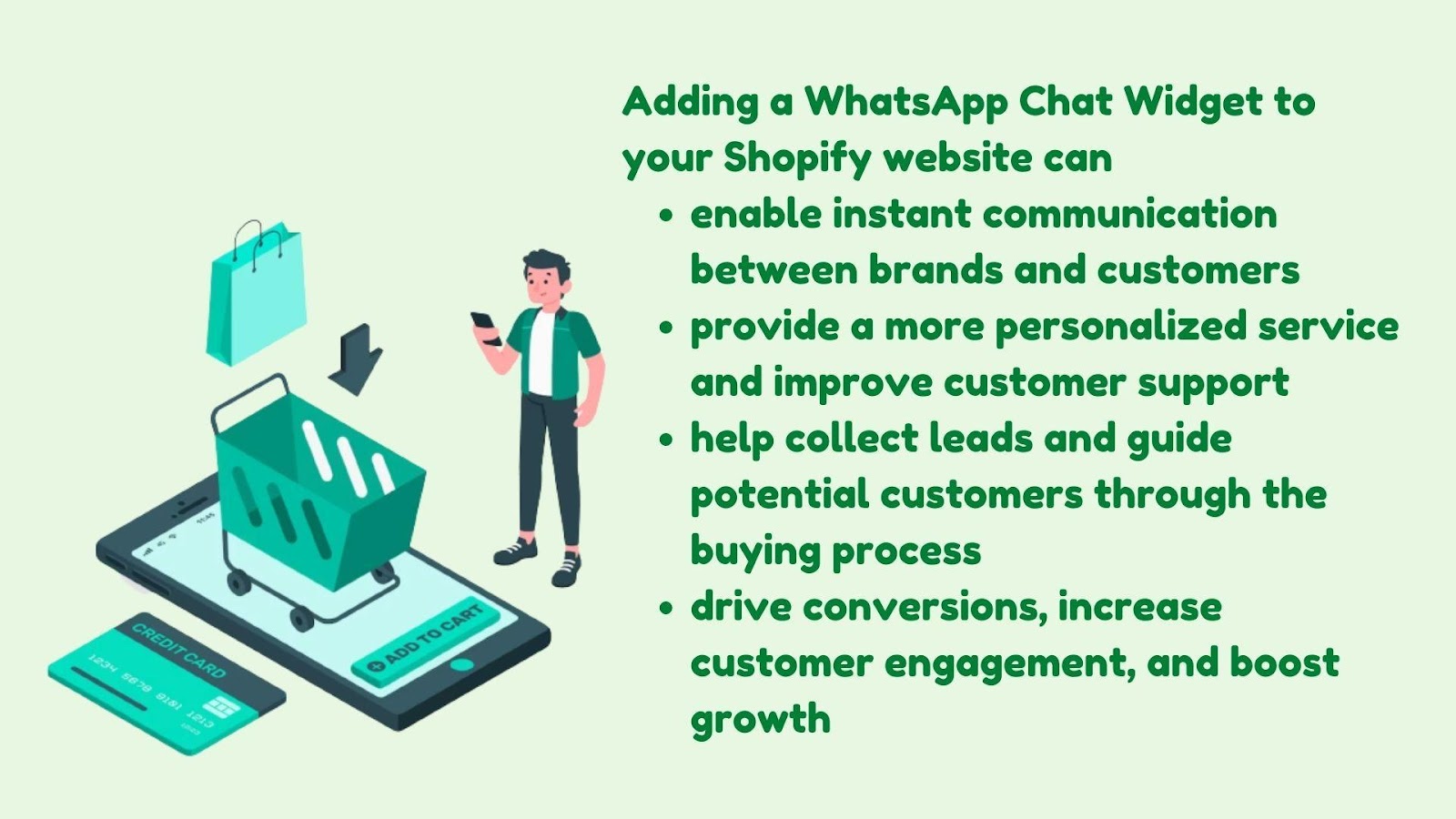 Overall, WhatsApp offers numerous benefits for lead generation and e-commerce, including direct communication, personalization, multimedia capabilities, wide reach, and efficient customer support. Leveraging these advantages on your Shopify website can help drive conversions, increase customer engagement, and boost the growth of your business.
Steps to Add a WhatsApp Chat Widget to Your Shopify Website
To add a WhatsApp chat widget to your Shopify website, follow these steps:


Set up your WhatsApp Business Account: This part is easy and detailed here. In short, download the app, create your business profile, and set welcome messages, business descriptions, and opening hours. You can also explore other WhatsApp Business features like product catalogs and broadcasting.


Install a WhatsApp Chat Widget App: You can find tons of WhatsApp Chat Widgets on Shopify, both paid and free. You can make a decision based on reviews, but instead of trying several apps to find the right one, you can simply add Juphy's live chat widget for WhatsApp, Facebook, and Instagram to your website. To do that, navigate to "Conversation Tracking" from the left menu of your Juphy interface. Generate your WhatsApp API link, copy the code at the top of the page, and paste it into your website's head section, as shown in the image below.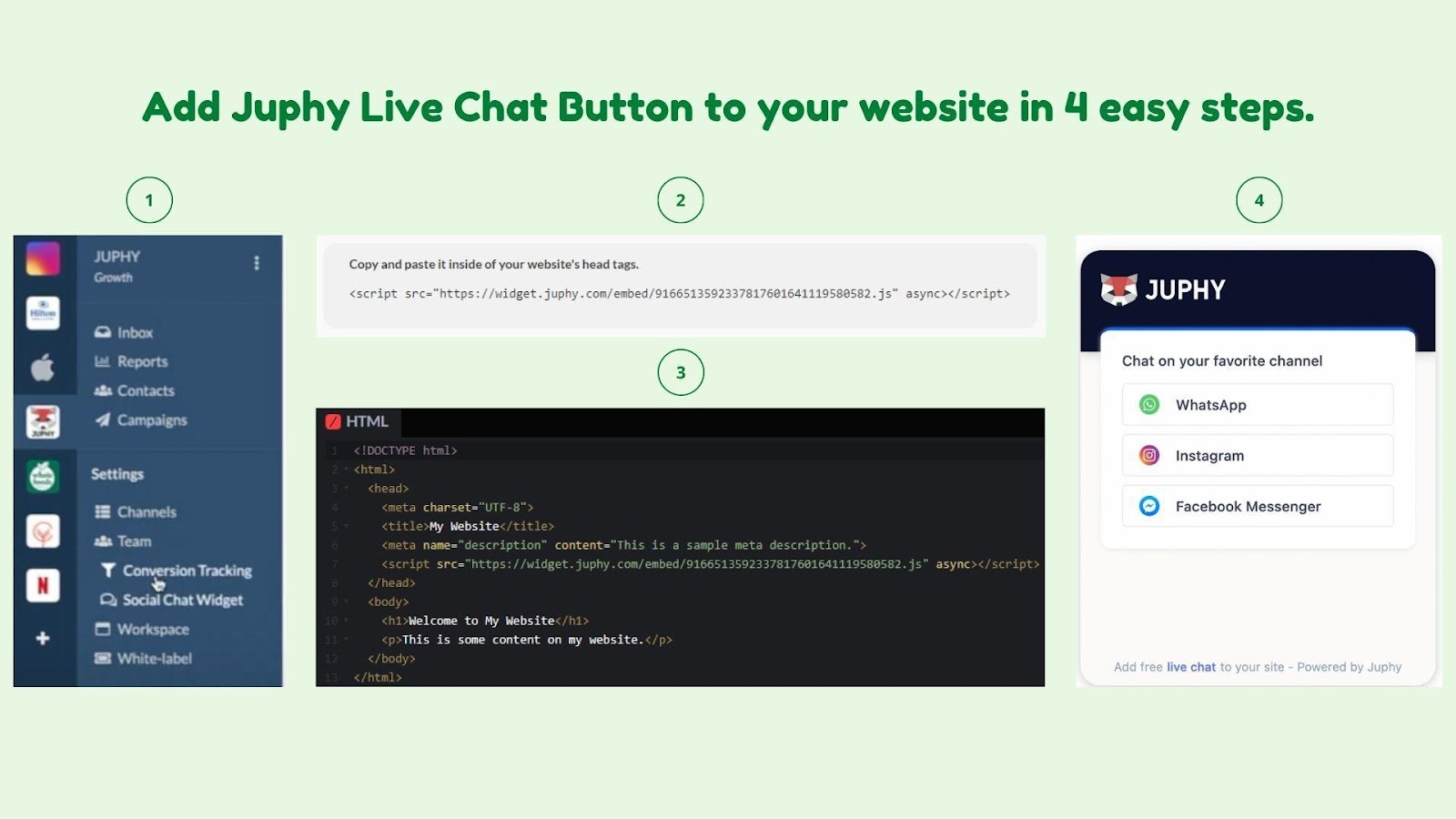 Well, if you are using Juphy to connect with your customers on social media, that's basically it. You have successfully implemented the WhatsApp Chat Button on your Shopify store.
When you insert Juphy's live chat widget, people who visit your website can reach out to you using either of the three instant messaging platforms. You can leave any of the platforms blank if you don't want to utilize it or disable the widget from time to time, like when you don't provide instant messaging on either of the platforms temporarily.
Customizing and Optimizing Your WhatsApp Chat Widget
Once you have Juphy's WhatsApp Chat Widget, live on your website, monitor its performance and usage. With the brand new WhatsApp marketing and sales features of Juphy, you can not only track response times but also customer engagement, including all browsing history and any feedback received. These insights can help you provide relevant information and products to your customers in order to lead them further into the sales funnel.
Juphy's Advanced Features for Your WhatsApp Chat Widget
If you've been using Juphy as a social media customer service tool, you already know that it displays all social media conversations from all platforms on a single dashboard in real-time. Now Juphy works as an advanced Social Commerce CRM tool with its new features, including customer support, sales, and re-targeting. If you haven't tried it yet, you can get your Freemium Plan now and follow the steps below to integrate your WhatsApp Business account with Juphy.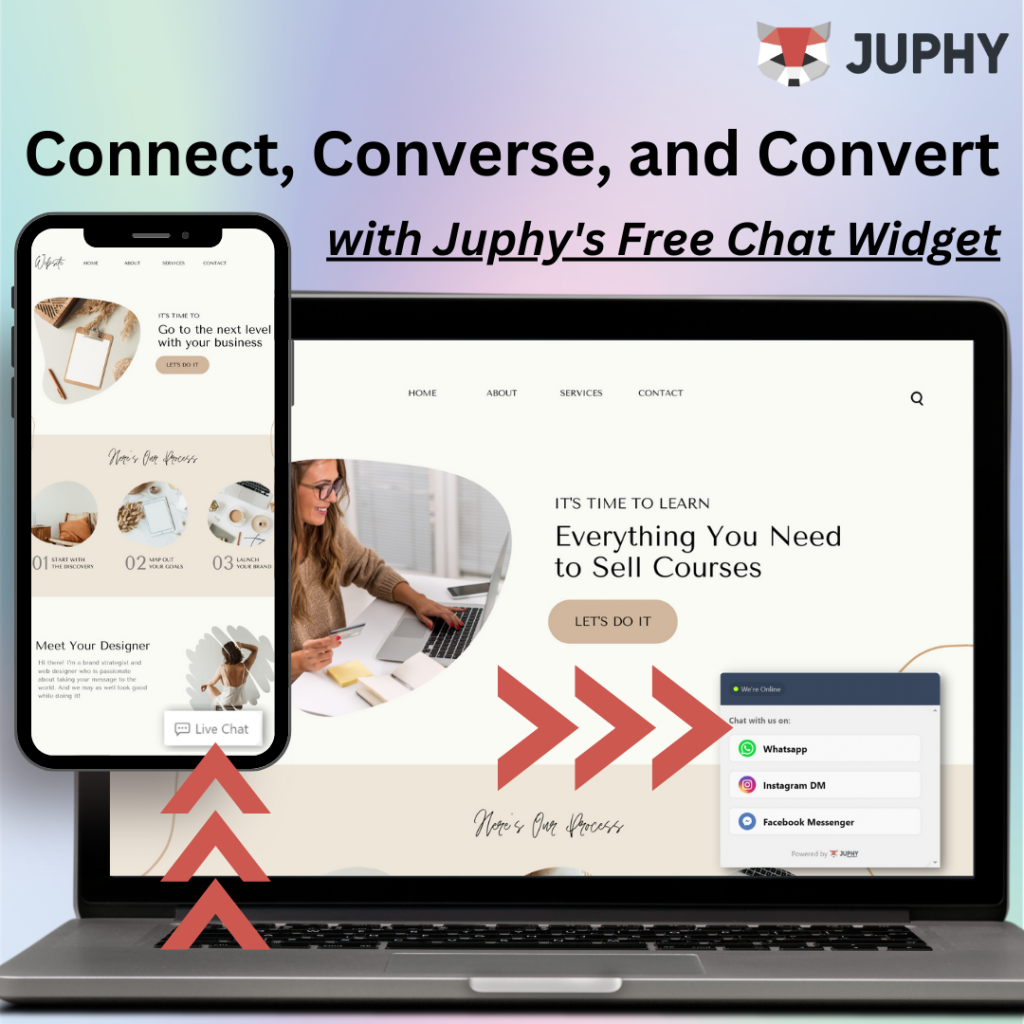 After you set up your account and add Juphy's live chat widget to your website, you can track your social audience's actions once they visit your website. As usual, all your conversations from all your social accounts, including WhatsApp Business, appear in the unified inbox.
You can manually or automatically tag, classify and filter the incoming messages based on content, urgency, tone, or any other automation rule you deem important. For example, you can tag the messages as potential leads or repeat customers to provide more appropriate responses.


Juphy's collaboration features allow you to work on the unified inbox as a team, streamlining all your social media conversations, direct messages, comments, and support requests. You can also monitor which team members interact with which inquiries in real-time and avoid collisions.


You can respond to the messages with a single click on the same dashboard, providing your customers with product information, purchase links, delivery options, and so on and so forth. Furthermore, you can enjoy some help from AI to get your affairs in order.
Benefits of OpenAI Integration and Conversion Tracking with Juphy
As a new sales feature, Juphy's AI-powered potential buyer detector prioritizes messages with higher purchase intent. You can respond to the messages instantly with pre-saved canned responses or get a reply suggestion from ChatGPT. This will not only improve your response times but also enhance the efficiency of your interactions.
Conversely, conversion tracking shows you the stage the customer is in their purchasing journey. When the customer you interact with visits your website, you can see if he or she clicked on buy now, add to cart buttons, or browsed other products. Keeping track of these actions can help you customize your messages according to customer groups or individuals.
Leveraging WhatsApp Bulk Messaging with Juphy
WhatsApp bulk messaging is a powerful tool for conversational commerce, allowing businesses to engage with their customers in a personalized and scalable manner. With Juphy's WhatsApp Business integration, combined with its new Social CRM capabilities, you can keep your customer groups informed about promotions and opportunities while being able to retarget them in line with their past preferences.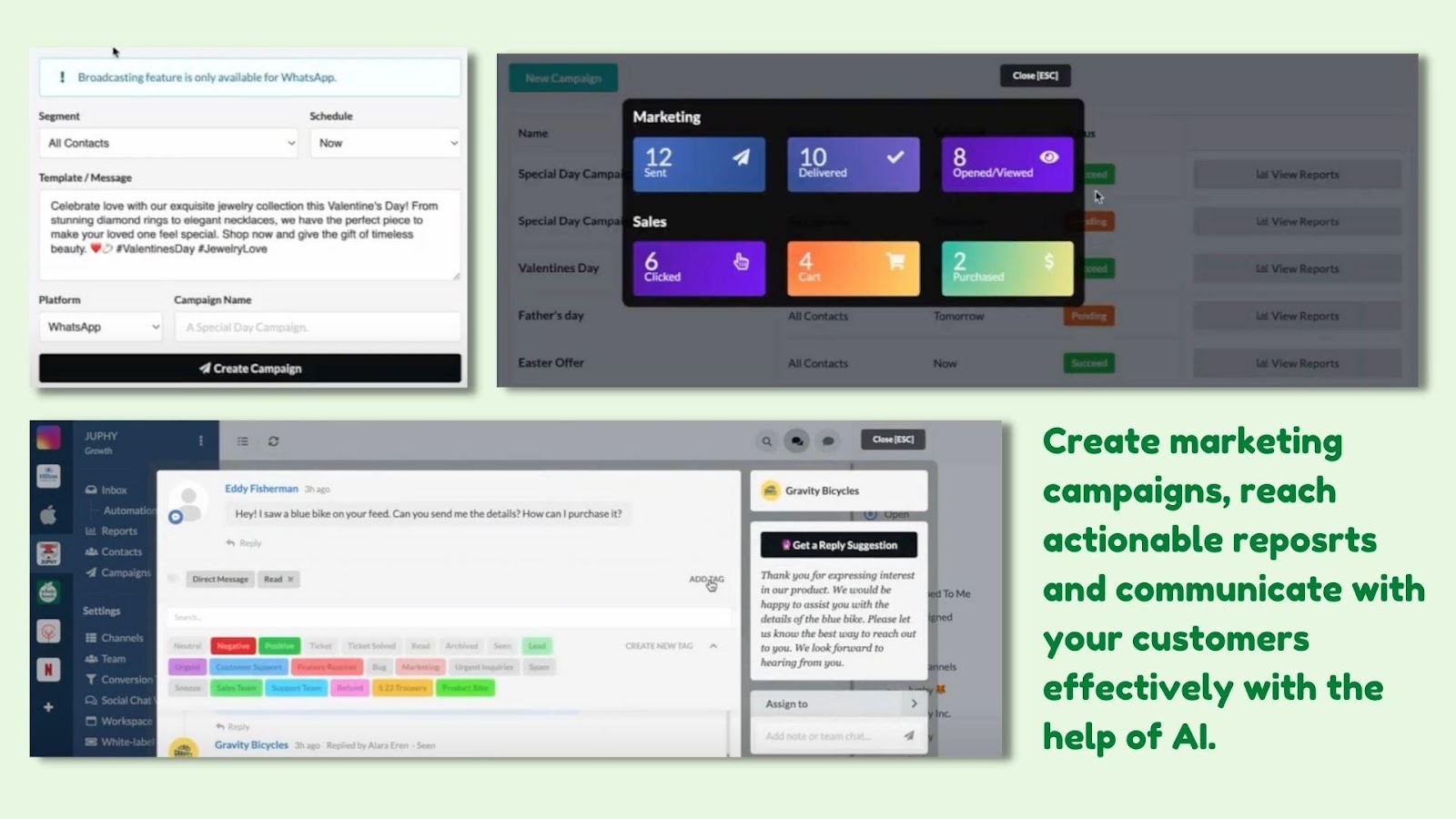 With Juphy's new Social CRM features, you can create a database of your social media contacts and segment them based on purchase history and interests. This customer segmentation will make creating buyer personas easier and send customized bulk messages to each group as a broadcasting campaign. Again with a single click, you can view all the campaign results, from message opening rates to actual purchases.
Improve Your Conversations and Conversions on WhatsApp with Juphy
Instant communication and real-time sales assistance on WhatsApp are rapidly changing the way we conduct e-commerce. Speed and personalization are becoming the differentiating factors in a successful sales process. Juphy's AI-powered WhatsApp Business integration can help you stay ahead of the curve and take your brand communications to the next level. Try out all WhatsApp features now with your forever Freemium Plan today!
FAQ
1. What is a WhatsApp Chat Widget?
A WhatsApp Chat Widget is a tool that enables direct communication between customers and businesses on a website or app. It works as a live chat tool and can be programmed to send automated messages.
2. Why should I add a WhatsApp Chat Widget to my Shopify website?
Adding a WhatsApp Chat Widget can enhance customer support, increase engagement, improve real-time communication with customers, drive conversions, and widen your business' global reach.
3. How do I add a WhatsApp Chat Widget to my Shopify website?
You first need to set up a WhatsApp Business Account. After that, install a WhatsApp Chat Widget app like Juphy on your website and customize it according to your brand's needs.
4. How can Juphy improve my conversations and conversions on WhatsApp?
Juphy's AI-powered WhatsApp Business integration allows for instant communication and real-time sales assistance. It can segment your social media contacts, allowing for personalized bulk messages and effective customer retargeting.
Create Your
Social Inbox Now
Manage all social media customer support inquiries in a unified inbox.
Related Article – WhatsApp Lead Generation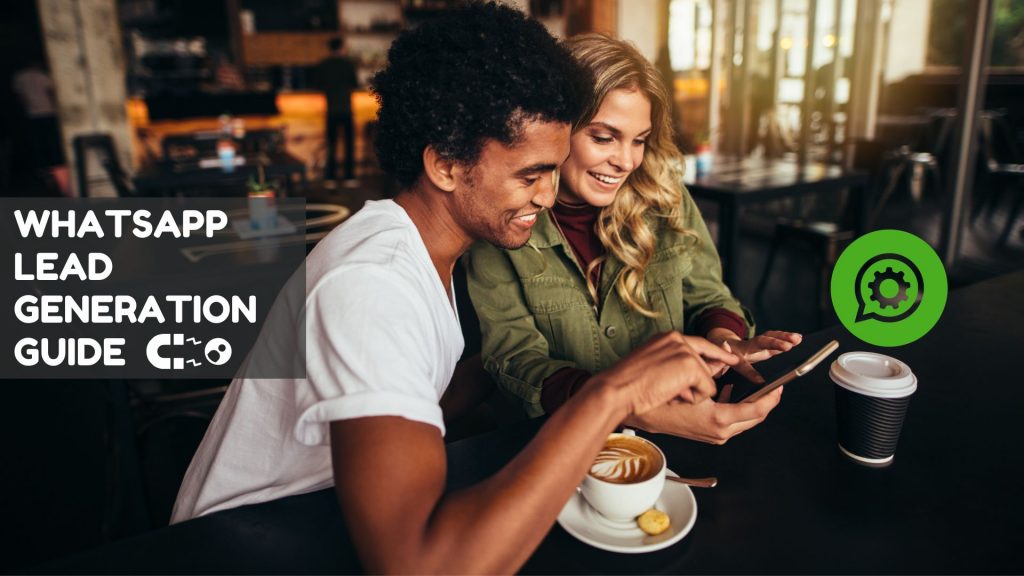 Discover the power of WhatsApp lead generation. Skyrocket your sales and expand your clientele using WhatsApp as an e-commerce tool. Read more now!