Raise your hand if you still think Facebook is a sleeping social media giant that nobody uses anymore.
If your hand is up, you're missing out on a lot!
Contrary to popular opinion, Facebook still remains a leading social commerce giant, and it's as wide awake as ever, even pushing innovative marketing solutions and updates frequently.
As of January 2023, Facebook could boast 2.96 billion monthly active users and over 200 million businesses that work with Facebook applications and free marketing tools. That's not all; over 70% of Facebook users view local business pages at least once weekly.
As the third most-visited site in the world, Facebook seems like the perfect platform to run an e-commerce business, and I'm here to show you how. I want to help you take charge of your marketing strategy, so you can maximize the sales potentials that Facebook brings.
Let's get right into it.
Create Your
Social Inbox Now
Manage all social media customer support inquiries in a unified inbox.
What Is a Facebook Marketing Strategy for E-Commerce?
Facebook marketing is simply the activities, steps, and practices a business engages in to promote its products and services on Facebook. It may also include the practices it carries out to help more people on Facebook find out about its brand.
The end goal of these activities may be to generate new leads, engage existing customers, encourage better sales, or increase brand awareness in that social space.
As a business owner, promoting your business on Facebook is not something you can simply "wing" or choose to "go with the flow." Without a detailed, step-by-step plan in place to help you achieve the above-listed goals, your e-commerce business may not perform well on Facebook.
This is where the need for a Facebook marketing strategy for e-commerce comes in. A Facebook marketing strategy is the detailed steps and tactics you create to make Facebook work to your advantage so you can outshine your competitors and access new potential customers who will take your desired action.
Let's see an example of a Facebook marketing tactic: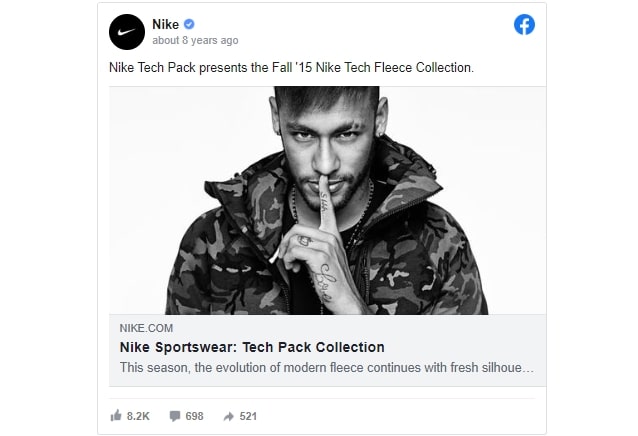 Even though Nike is one of the most popular clothing brands globally, this doesn't stop them from leveraging a marketing tactic that makes you pause scrolling in your feed and check out their content. In the post above, you see the brand working with a popular face, Neymar, the football star, to promote their new sportswear collection.
With this collab, Nike draws the attention of sports fans to check out their website and buy the same sportswear their favorite star is modeling.
Since you have a limited ad budget, incorporating this marketing strategy into your brand may require you to work with popular local micro-influencers in your niche. If you have an unlimited budget for marketing promotions, you can work with celebrities to promote your products and services on their Facebook pages.
This tactic works because you reach the influencer or celebrity's audience with your products and increase people's awareness of your brand on Facebook.
How Can E-Commerce Businesses Effectively Use Facebook for Marketing?
There are many ways businesses can maximize Facebook for marketing their business. Even without spending a dime, Facebook can be a highly effective free marketing tool to help your business stand out and garner much business-boosting engagement.
Here are a few ways you can effectively use Facebook as a marketing tool:
Maximize Facebook Business Page
Facebook Business Page is a free marketing tool allowing e-commerce businesses to showcase their brand identity, list their products and services, and share relevant content that users may find helpful.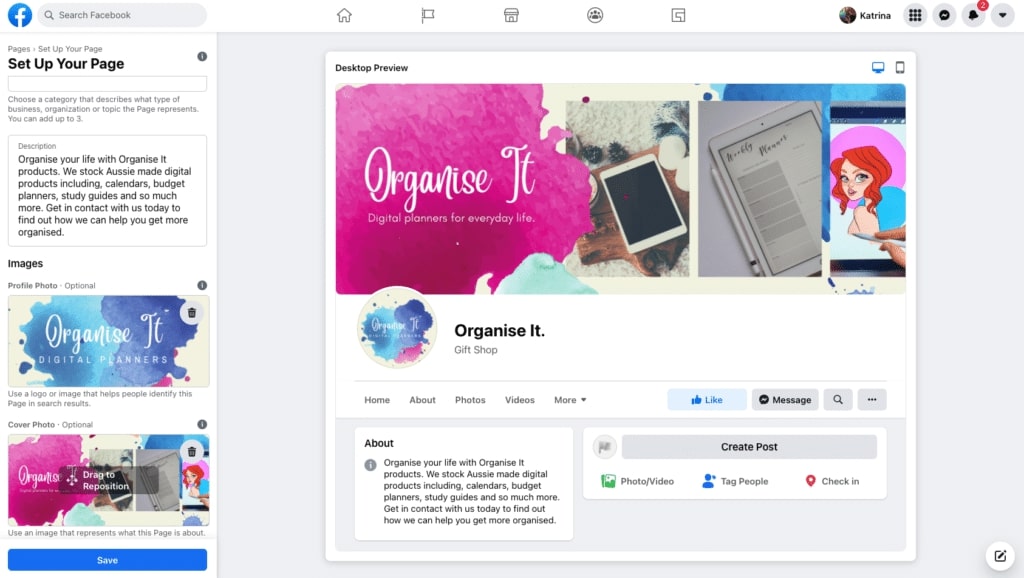 As an e-commerce business, you should have a business page on Facebook; it's non-negotiable. This page serves as a digital storefront where potential and existing customers can find out what's going on with your brand or what type of services you're offering.
So, regularly update your Facebook Business Page with resources, business updates, available products, and even customer reviews. Engage with your customers on your business page to build a trustable connection with them. Lastly, check your Facebook Insights to find the type of content your Facebook followers engage with the most so you can give them more of this.
Run Facebook Ads
As much as free marketing sounds inviting for many e-commerce businesses, sometimes you need to put your money where your mouth is if you hope to make a mark on huge platforms like Facebook. You can do this by running Facebook ads frequently.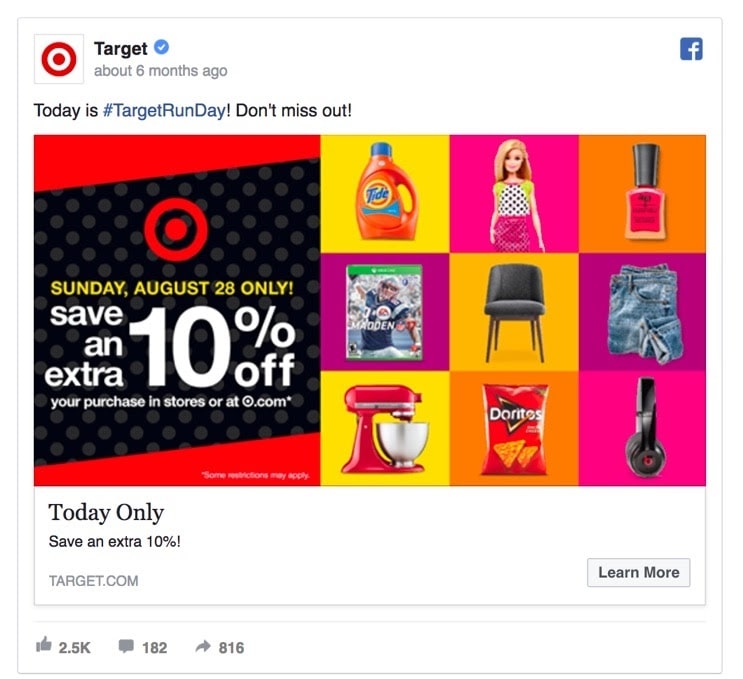 One of the benefits of Facebook ads is that they can be highly targeted to your specific audience category. This ensures that your adverts are more than just swinging and missing; they seek out the right recipients for your ad content and appear on the feeds of people who are more likely to buy.
Facebook Ads also allow you to set an ad budget depending on how much you're willing to spend on your ad—this way, you can save on costs but still generate effective results. Another particular reason I recommend Facebook Ads is the insight and measurement tools you can access.
They help you identify what aspects of your marketing campaign work and where you can improve subsequently.
Sponsor Stories, Promote Posts
You're probably thinking, "Why do I have to pay to let my followers see my posts? Wouldn't they see it anyway?" Maybe, maybe not.
As active as they are on Facebook, Facebook users may not see every post on their news feed. But with Sponsored Stories and Promoted Posts, you can guarantee that your Facebook content reaches a specified number of people.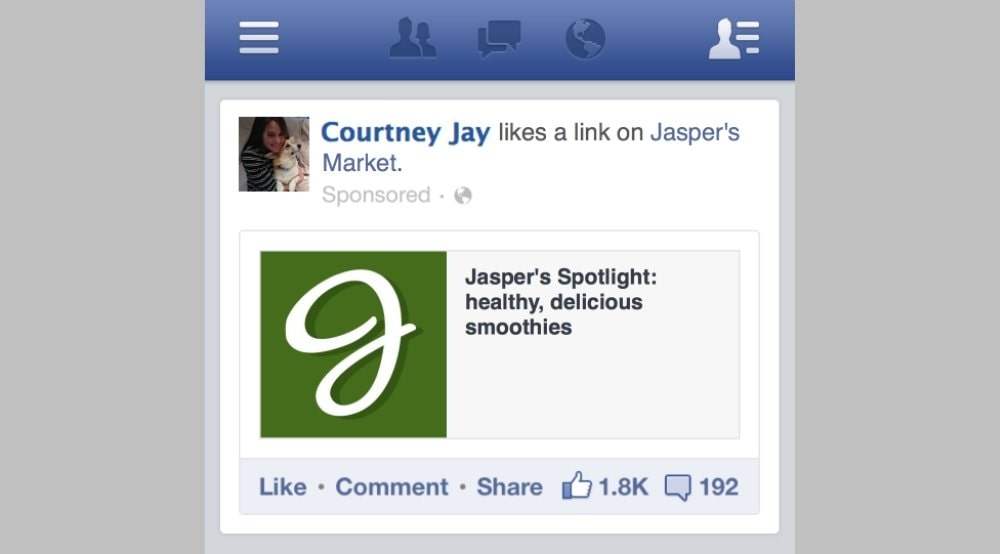 A Sponsored Story works by showing a follower's interaction with your posts to their friends. So, if your follower (Courtney Jay) likes your post, for example, a Sponsored Story appears in Courtney's Facebook friend's feed telling them that Courtney Jay liked a post by [Your Business Name].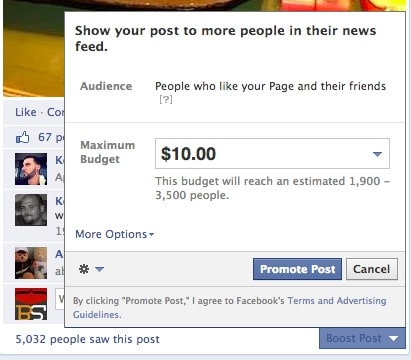 A Promoted Post allows businesses to pay a flat rate to have their individual Facebook posts boosted to reach a specified number of Facebook users. These two types of promotions aim to expand your brand's reach and post impressions, getting your content in front of people that matter. 
Run a Facebook Shop
What if I told you that you could make money from your Facebook friends without asking them to leave Facebook?
If you're a Facebook e-commerce business that sells products, you should set up a Facebook Shop. On your Facebook Shop, you can create a catalog of the products you want to display, customize the look and feel of your shop and start selling immediately. Yes, it's free to use.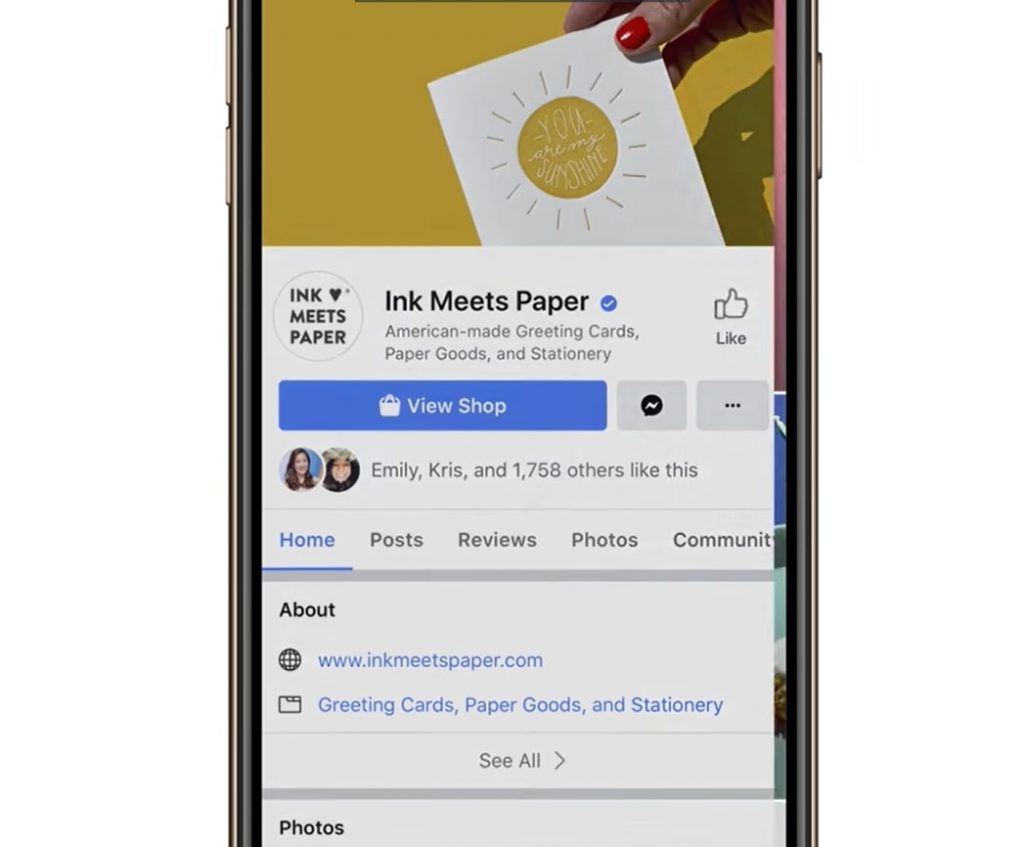 Your shop will be visible on your Facebook Business page, or even your Instagram Profile. Customers can pay for what you're selling directly on the shop without being redirected out of Facebook.
It also integrates Instagram Direct Message, Messenger, and WhatsApp so customers can chat directly with your representative for a seamless shopping experience!
What Are the Best Practices for Creating a Facebook Marketing Strategy for E-Commerce?
Crafting a marketing strategy for your Facebook e-commerce business is essential, no matter the stage your business is in — whether you're a small and growing brand or a huge brand with many international clients.
These best practices will help you create a top-notch strategy for scaling your Facebook marketing campaign and results.
Map Out Your Business Page Goals
To create an effective strategy for Facebook marketing, you must start out by defining your goals for your Facebook Business Page. Identifying your goals ensure you stay aligned with your marketing strategy. To define your goals, you should answer questions such as the following:
What am I setting up my Facebook Business Page to achieve?
Is my intention to grow a huge following? Or improve my online presence on Facebook?
Is the page to boost engagement with followers?
Is it to increase my sales online?
Your business page goals serve as a reference point to measure your Facebook marketing activities—they show you how well you are on track to success. They also make it easy for you to manage your current and future marketing campaigns.
A few goals that you can set your business page to achieve on Facebook include brand awareness growth, improved customer engagement, and directing traffic for your website.
Set Your Facebook Marketing Budget
Even though there are free marketing tools on Facebook, some Facebook services still cost money, and you need to plan for this as you create your strategy.
Without a strict ad spending budget, e-commerce businesses tend to overspend on paid ads and sometimes with little results to show.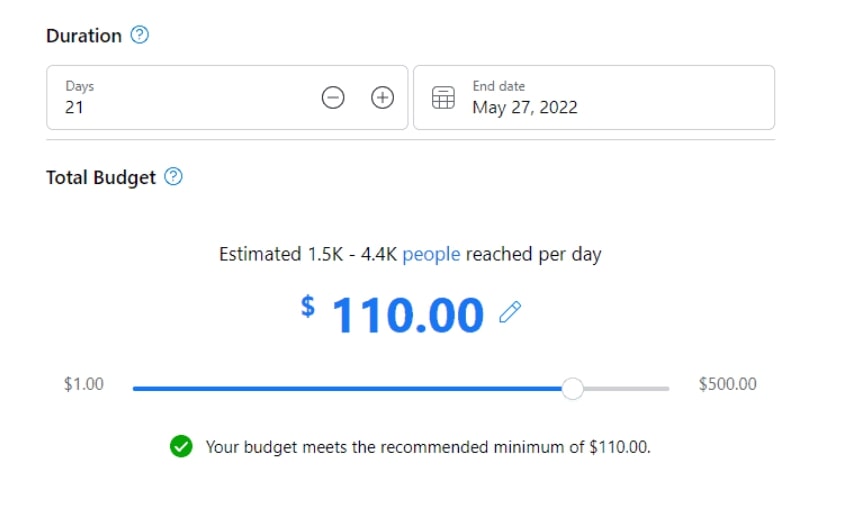 Thankfully, Facebook's ads and sponsored posts services come with budgeting tools that estimate how much you need to spend to achieve certain results. This is particularly helpful if you don't know how much to plan for in your budget.
You can create a test ad on Facebook to determine how much you need to spend to reach a certain number of people within your target audience and how much engagement you may possibly receive.
Find Your Target Audience
All your marketing efforts on Facebook should be targeted toward this category of people, and so, if you haven't defined your target audience, now is the time to do so. This step is important because marketing a product or service to EVERYONE means you're likely marketing to NO ONE.
Sure, you may have a few random sales now and then, but it's a different result entirely when you find out who needs your service the most and you focus your efforts on reaching them. To define your target audience on Facebook, here are some questions you need to answer:
How old are they
Where do they live?
Do they have jobs, or are they non-workers?
What problem do they have that you want to solve?
When are they usually on Facebook?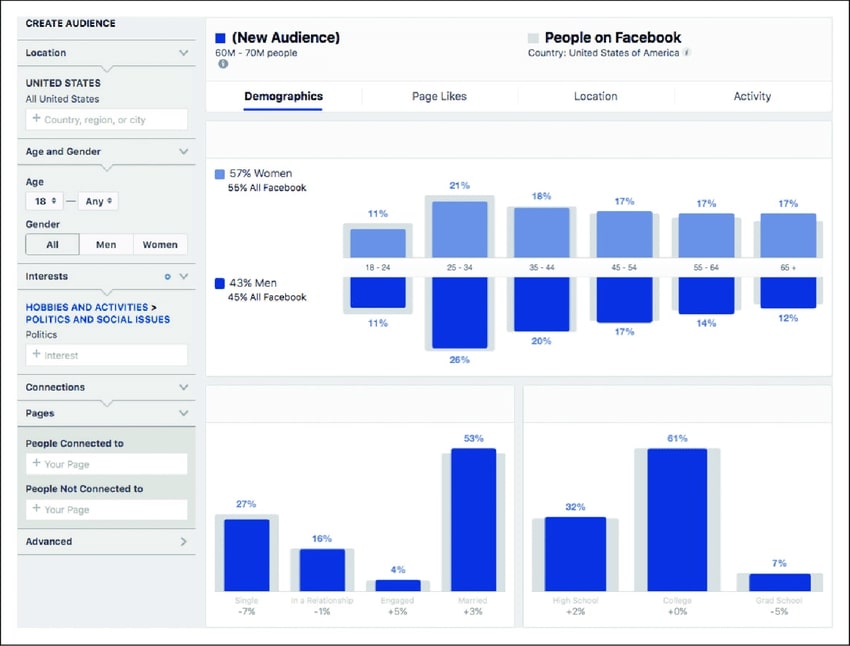 If you already have a following, you can gain more insight into your target audience by checking Meta's Audience Insights page to see who currently engages with your content on Facebook. Knowing this information is also very useful for Facebook Ad targeting — it helps you know to whom you should push your ads on the platform.
Have a Content Strategy
Your content strategy simply contains information about what you post and when you post to your audience on Facebook. Here, you should identify the types of content you will share on your page. Again, you can't afford to "wing" it. Be detailed about the types of content that you post on your Business Page.
In general, it is advisable to share relevant and informative content, as well as content that triggers engagement. Going deeper, the way you share this information is also vital, and you determine this based on how your audience responds to your posts.
For instance, if you post an infographic and get only a little engagement, and you post that same information as animation and get a higher engagement, then you know that your audience prefers animated content to infographics.
Your type of audience also determines how they respond to specific posts. A mature audience may prefer informative posts like industry news, while teenagers prefer less formal, more creative content.
A good content strategy is to follow the 80/20 rule: 80% of your content should inform, entertain, and educate, while the 20% that's left can contain promotions.
When to post is also an essential part of your content strategy. Using Audience Insights on Facebook, you can check to see when your audience is most active every day, then align your posting schedule to make the most of these times.
Work With Useful Social Media Tools
Scheduling and customer support are essential when creating a Facebook marketing strategy. Auto-scheduling helps ensure your posts go up when due, even if you're unavailable to post. This is highly necessary for being consistent on the platform.
Providing customer support on Facebook is also non-negotiable because e-commerce customers will always have queries, inquiries, and complaints that you'll need to provide solutions. So, part of your strategy should include planning for the necessary tools that will help you market your brand appropriately.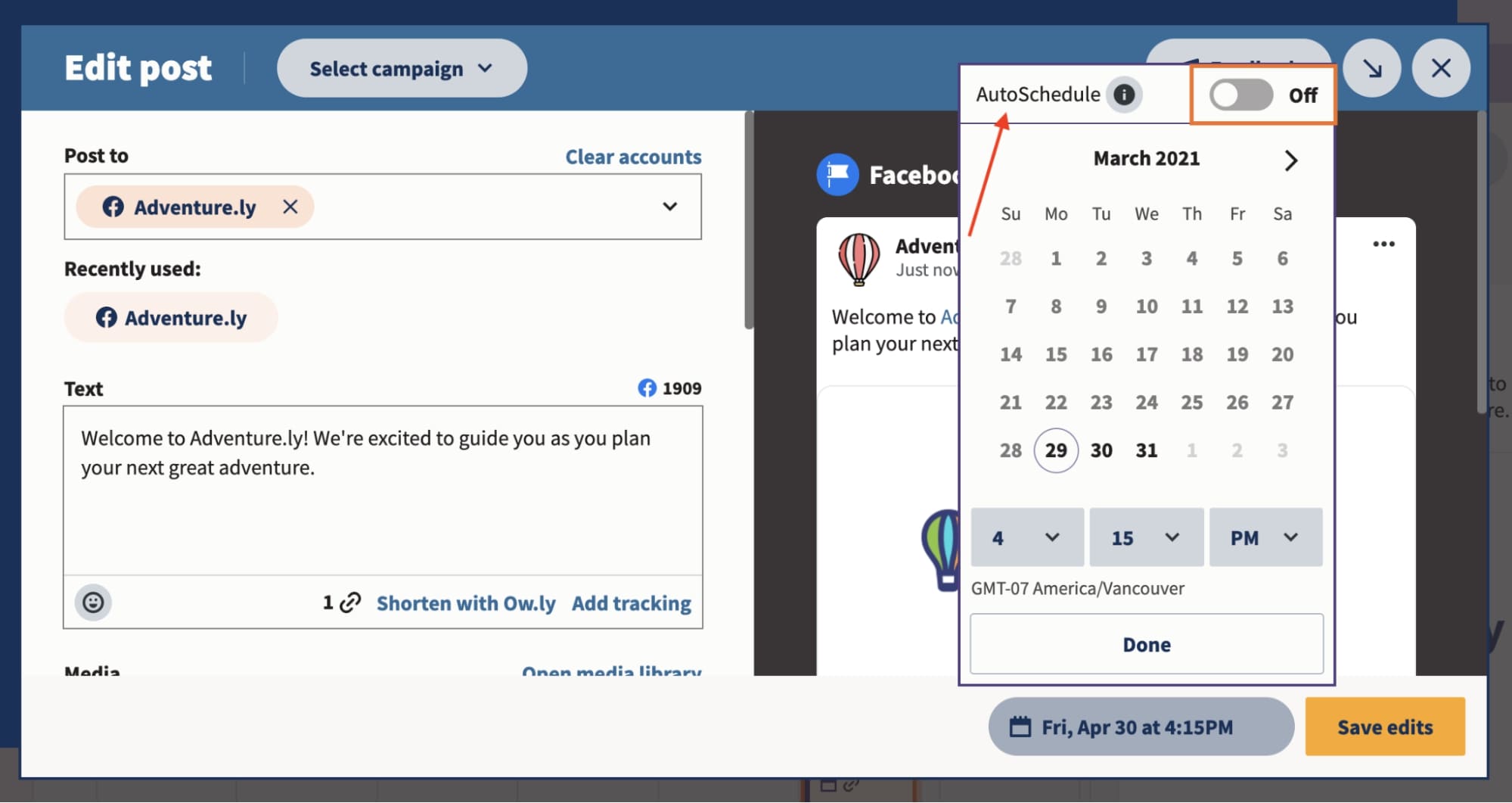 Popular content scheduling tools for Facebook include Hootsuite, SproutSocial, Sendible, Buffer, and more. As for customer support tools, Juphy is the current most-loved and trusted social media engagement management tool you can work with. Other similar tools include Conversocial and Zoho Desk.
Plan an Engagement Strategy
It's one thing to create posts for Facebook; it's another to get your audience to engage with them. Never assume that your audience will engage with your post just because you used appealing visuals. You need a strategy to get people to engage with your content on Facebook.
You can start by identifying what type of content your audience loves to see and start sharing more of that. Writing engaging captions with relevant calls to action will also trigger your audience to take your desired action.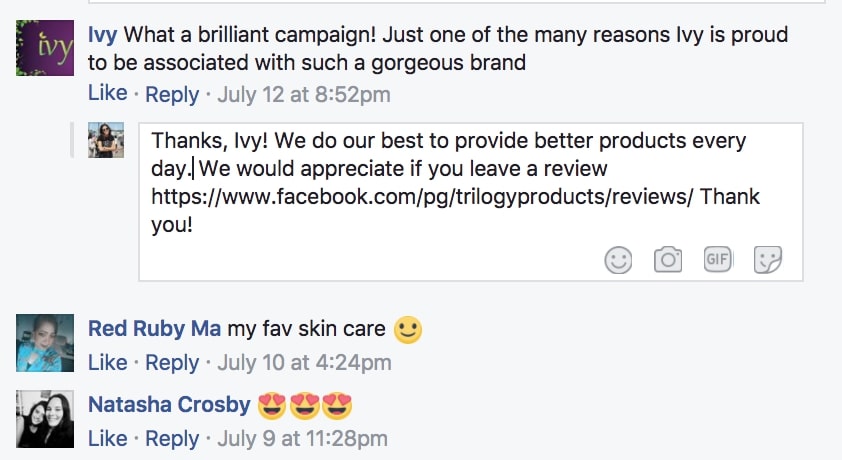 Responding to comments in a friendly and exciting way urges other members of your audience to join in the conversation. You can ask for reviews of products or services in the comments, and be sure to tactfully reply to negative reviews if any.
If you follow some of your customers on Facebook, you may also engage with their posts and inform them of promotional offers on your page while at it. Lastly, you can host frequent contests and giveaways on your page that spur audience engagement.
Get Help When Necessary
Whether you're a small business still finding its feet or a large corporation with a large market share, it's important to know when you need help with your marketing strategy and ask for it. You can't do it all on your own, even if that's what has been working for you.
Social media marketing is a full-time task that requires close monitoring. If you're unable to give your Facebook Business Page your full attention, you likely need to get dedicated professionals to help you handle your Facebook Marketing.
As you create your strategy, identify which type of professional fits your e-commerce business best and how you plan to bring them on board when necessary. It's important to state here that there are three major categories of professionals you can work with — contractors, in-house marketers, and marketing agencies.
Small businesses usually work with contractors as needed; medium-sized businesses may have in-house professionals, while large corporations typically go for marketing agencies.
What Are The Latest Updates And Features In Facebook Marketing For E-Commerce?
There are several recent Facebook updates and features that e-commerce businesses can use for Facebook marketing (we've discussed some briefly in the article.) Here are some of my favorites:
Facebook Shop is like a simulation of a website store. However, this Shop is simply a platform on Facebook that allows Meta users to browse, shop, and pay for items on the site. You don't have to redirect customers to a website to check out your catalog; they can view your products directly on the Facebook shopping platform.
In addition, Facebook recently launched a feature that allows brands to showcase their entire Shop on WhatsApp so that WhatsApp users can browse through your shop from WhatsApp. Another feature is the customer review feature, enabling customers to leave their opinions (plus photos and videos) about your goods and services on your Facebook Shop listings.
Further Reading – Best Practices for Facebook Retargeting Ads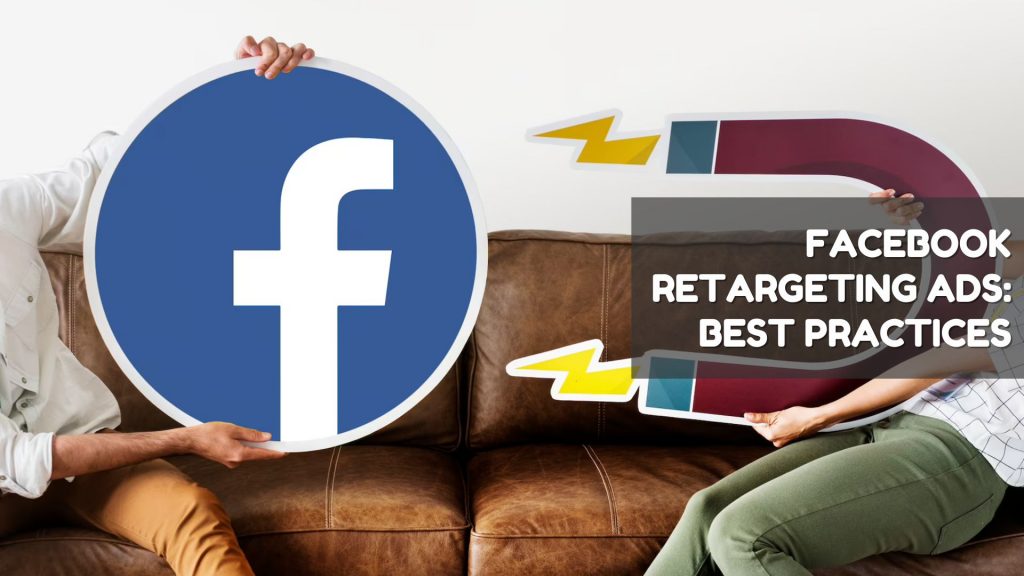 Boost sales with Facebook Retargeting Ads! Learn best practices, benefits, and step-by-step setup for a winning strategy. Read more now!
This platform is similar to Facebook Shops, but instead, it's perfect for selling items to buyers within your locality, unlike Facebook Shops, which has a broader audience range. Think of it like eBay or Craigslist, where interested buyers can simply send a message to sellers in their locality to arrange a sale.
Listings on the MarketPlace are free, making it a great tool for small businesses who want to gain recognition within their surrounding locations.
While Groups has been functional on Facebook for a while, the latest updates coming to the feature make it a useful tool for businesses on Facebook. Its Reel in Groups feature allows users to engage with their group community with video reels directly in the group — great for sharing product videos, behind-the-scenes footage, etc.
Facebook Event Sharing via Instagram allows group admins to cross-promote Facebook Events to an Instagram audience through their IG account. This helps brands reach an audience that may be interested in your offers, even though they're not on Facebook.
Lastly, Group Profiles will now be expanded to include sections like "About Me" and "Open to Messaging," which means more avenues for users to learn about brands and reach out to them from the group, if necessary.
Amplify Your Facebook Marketing Strategy with Juphy
Now that you know what it takes to create the most effective Facebook marketing strategy, what's next?
For one, you can work with the most effective Facebook marketing tool, Juphy, to amplify your results! Juphy is the most-loved social media tool that helps businesses keep their customers happy with its many useful features.
Juphy's social inbox feature works hand-in-hand with Facebook to ensure you never miss a message from customers on Facebook again. It seamlessly integrates with your Facebook DM plus other social media platforms you may be active on, bringing your customer interactions together in a single dashboard for your convenience.
Not just that, on Juphy, you can monitor comments on your Facebook posts and ads in one place. This ensures that your team can resolve customer inquiries and tickets at record speed, keeping customers happy.

There's no use working so hard to set up an effective marketing strategy only to have your efforts thwarted when you keep missing out on important messages and comments. Get real-time notifications whenever a customer engages with your Facebook Business Page and posts.
Sign up with Juphy today. Jump on this 7-day free trial while it lasts and see the results for yourself!
FAQ
1. What Is a Facebook marketing strategy?
A Facebook marketing strategy is the detailed steps and tactics you create to make Facebook work to your advantage so you can outshine your competitors and access new potential customers who will take your desired action. 
It is a plan that helps you achieve your e-commerce marketing goals, like generating new leads, engaging existing customers, encouraging better sales, or increasing brand awareness on Facebook.

2. Can I effectively use Facebook for marketing my E-commerce business?
Yes, you can. To do this, make the most of your Facebook Business Page to share helpful material and content. Run Facebook ads and promote posts to reach and engage a larger audience. Set up a Facebook Shop to sell your goods and services right from Facebook, just like on a website.

3. Which practices can help me create a successful Facebook marketing strategy?
Start by identifying your goals and what your page will achieve. Next, set a budget for how much you plan to spend on Facebook marketing. Know and understand your target audience to tailor your efforts to them. Create a content strategy that helps you determine what and when to post.
Get effective social media tools like Juphy to amplify your marketing efforts and manage your campaigns, and also seek help from professionals if needed. Lastly, create a strategy to help you generate engagement on your Facebook content.
4. Are there any helpful updates and features in Facebook marketing for e-commerce?
Yes, Facebook has rolled out and is still in the process of rolling out useful features for Facebook marketing for e-commerce. Facebook Shops, Facebook MarketPlace, and Facebook Groups are some of the most recent features available to businesses. However, many of these features are still getting updates like Reels for Groups, Reviews for Shops, and Expanded Group Profiles that look promising for e-commerce on Facebook.
Create Your
Social Inbox Now
Manage all social media customer support inquiries in a unified inbox.
Related Article – Facebook Messenger Auto Reply Guide with Templates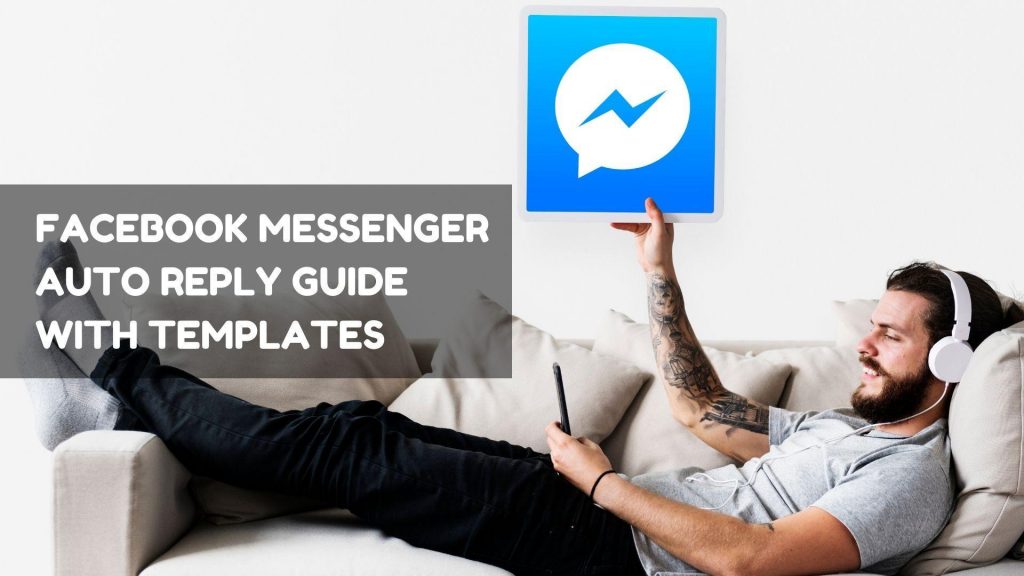 Boost your business with our Facebook Messenger Auto Reply Guide! Learn how to automate responses & access ready-to-use templates! Read more now!