Customers are the lifeline and oxygen for any business to survive. That's why a solid customer acquisition strategy is needed to bring in new customers consistently and retain the existing ones. Customer acquisition is the method of onboarding new clients within the business framework.
But according to a study by ProfitWell, customer acquisition costs have risen 50% in the last five years.
So, do we stop acquiring new customers?
Of course not!
While it costs five times more to acquire a new customer than to retain an existing one? But, according to an infographic from Invespcro.com, over 44% of companies focus on customer acquisition more than customer retention.
Customer acquisition helps businesses to target people who have heard of the brand and convert them into paying customers. Many organizations use various methods and tactics to improve their profitability, including customer acquisition marketing.
Investing in a customer acquisition strategy is vital for businesses to attract the right leads for the company and increase their chances of boosting long-term customer retention.
Learning more about the customer acquisition process, its definition, process, benefits, and the various channels businesses can use to interact with leads may help to determine the best strategies to get the maximum benefit.
In this blog post, we will discuss the definition and process of customer acquisition and explore some channels you can use in the customer acquisition strategy, along with the steps of the customer acquisition process.
For starters, let's understand what customer acquisition strategy is.
Create Your
Social Inbox Now
Manage all social media customer support inquiries in a unified inbox.
What Is Customer Acquisition Strategy?
A customer acquisition strategy is a company's approach, activities, and actions to reach new customers and then follow a customer acquisition funnel to convince them to buy their product or service.
A solid customer acquisition strategy leverages consumer data to understand the customer's behavior to determine the marketing opportunities to reach consumers with a coordinated series of marketing touch-points.
A powerful customer acquisition strategy helps businesses to:
Attract leads
Nurture them until they are sales-ready
Systematically attract and convert leads into customers
Retain loyal customers through customer retention
Customer acquisition is essential for any and every business as it also empowers and benefits firms in:
Boosting sales and profits
Improve brand awareness
Offer evidence of traction to new investors, influencers, and partners
Boost the company's overall growth
An opportunity to expand business
The process includes a buyer's journey from the first contact with the customer to the final conversion. It encompasses each aspect of the customer's journey, from lead generation to activation, customer loyalty, and conversion rate optimization.
The overall cost of these steps in the customer acquisition process is called customer acquisition cost (CAC).
Depending entirely on the business's services or products, customer acquisition takes short to long periods, from the beginning to the end. But irrespective of the process length, each step must be covered as part of the customer retaining strategy and a broader marketing funnel.
3 Core Phases of a Customer Acquisition Funnel
Customer acquisition strategy, process, and funnel vary from company to company, but they're generally built around these three phases.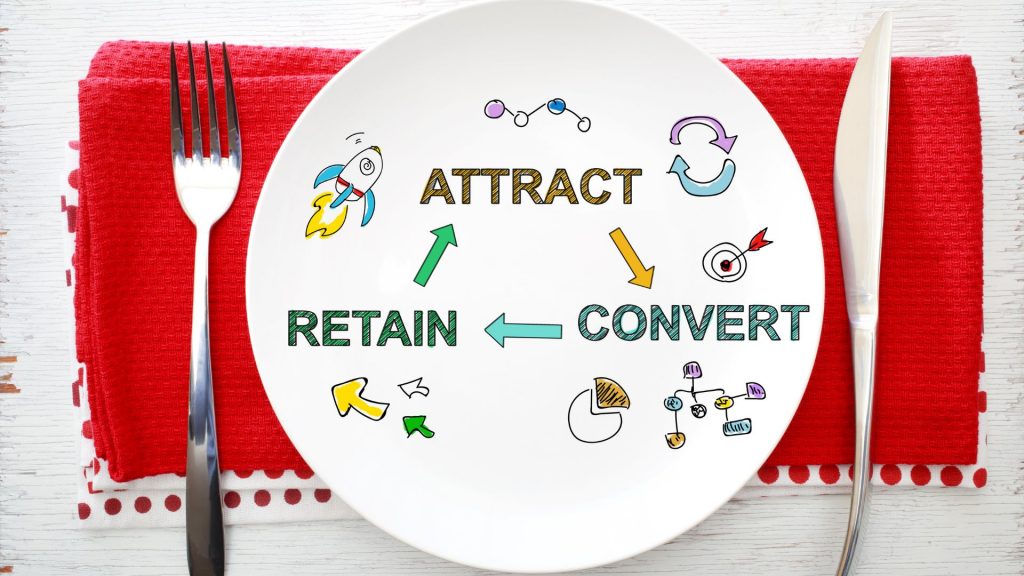 Lead Generation – (Retain)
The first step of the customer acquisition process involves creating and implementing an effective offline and social media marketing strategy to build brand awareness by reaching new customers via conventional telemarketing, direct mail, TV advertising, and digital and social media marketing.
A diverse mix of acquisition channels exposes potential customers to your brand and creates awareness about products or services.
Purchase Intent – (Attract)
The next step in the customer acquisition process primarily focuses on giving more information to customers about your brand and encouraging them to consider purchasing.
Businesses often use different marketing strategies to draw customers' attention to the physical or online store or their brand website, where they can browse the products/services.
The more informed potential leads are, the more likely they will make a purchase decision and turn to customers.
Purchase Decision – (Convert)
This final stage of the customer acquisition process involves offering incentives to new customers on the verge of making a purchase. Offering discount codes, free trials, loyalty programs, and other rewards to first-time customers can all help new customers complete the purchase process.
What Is a Customer Acquisition Channel?
Identifying your ideal customers and creating a customer acquisition strategy and funnel is a great start to gaining new customers, but that's only one process phase. Businesses must consider which customer acquisition channels to use to implement the strategy.
Customer acquisition channels are the platforms a company uses to promote its products/services to new customers or leads. The acquisition channels that are best suited for your business depend on your product, audience, resources, and overall strategy.
That said, listed below are some popular customer acquisition channels:
Instagram: Short videos and visually attractive posts.
Facebook: One-to-one messaging, live video streaming, advertising.
YouTube: Usually longer. More informative and entertaining video content.
SEO: Long-form of written content that's optimized for search engines.
Paid social: Crisp, catchy, and snappy ads with compelling visuals.
Rewards: Discounts, referrals, and loyalty rewards.
What Is an Effective Example of Customer Acquisition?
Amazon always stayed at the top by being steadfast in customer communication. Their Behavioral Email is one of the finest examples of how they have a strong acquisition game. It is a follow-up message in our mail inboxes when we purchase something.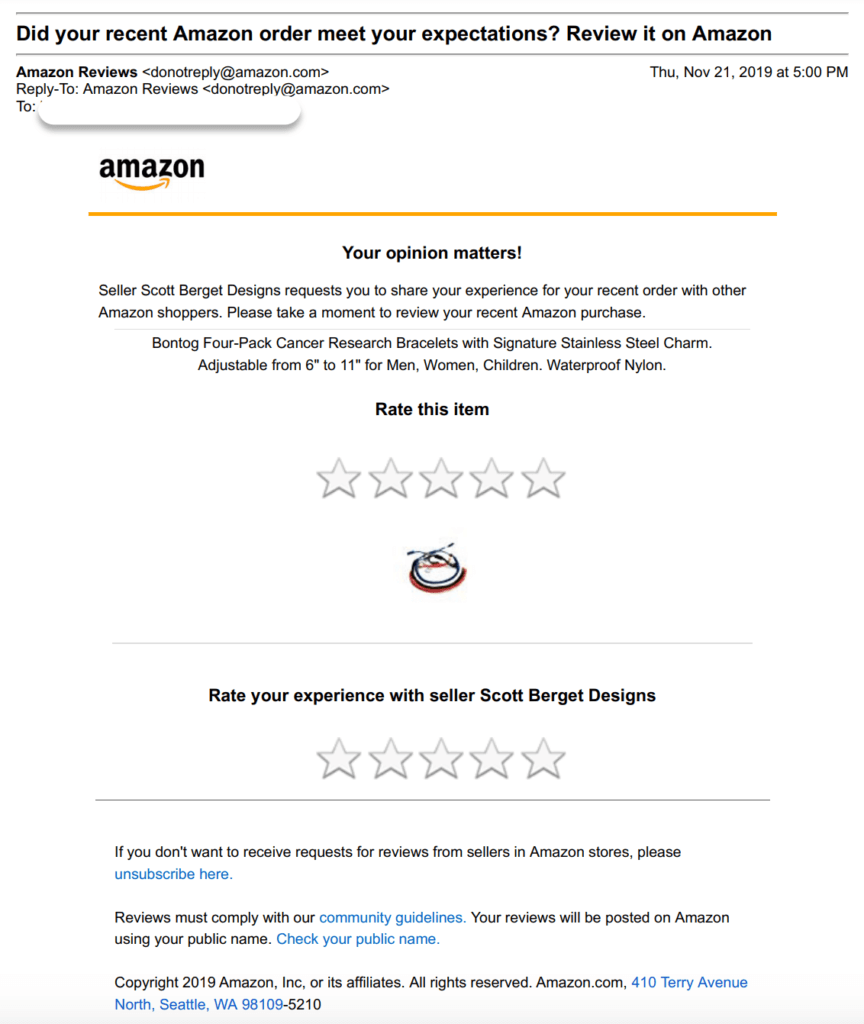 The mail asks the customer to rate and review the product. This practice is a clever way of keeping the customer in a constant loop of the acquisition journey, traversing even beyond the final purchase point.
And how do they do it? They give us a live link as an actionable reviewing CTA, which, when we click, takes us to their website once again to make us a prospect.
Dissecting The Purpose Of Customer Acquisition Strategy
Every business out there aims to fetch more customers to stay afloat and grow into a significant brand amidst competition. These goals can only be achieved when the company plays a vigorous game of customer acquisition strategy. The purpose of this strategy, speaking technically, is to get, grow and keep. Here's a detailed insight into these points below:
Get – The process of acquiring new customers for the business. This is the very first part where the acquisition strategy plays its role. The company markets its service, product, or service to potential or target customers through various channels and then turns them into leads.
Keep – Not every potential business target can turn into a final buyer. As mentioned earlier, success depends on the service and the products the business deals in. If the business wants to keep the customers, it must frequently provide them with something new – a discount, a loyalty reward, or even a gift! The churn rate is different for one industry from another, which generally dwindles between 5% & 7%.
Grow – How many consumers can help grow a business? Or to how many customers can the company upsell or cross-sell its services or products? The venture constantly has to reel in new customers by keeping its customer acquisition strategy live and thriving to keep growing, even when the customer is churning.
6 Best Customer Acquisition Techniques
As you build out your customer acquisition strategy, consider the top 5 customer acquisition techniques to get your products/services to prospective customers.
Content Marketing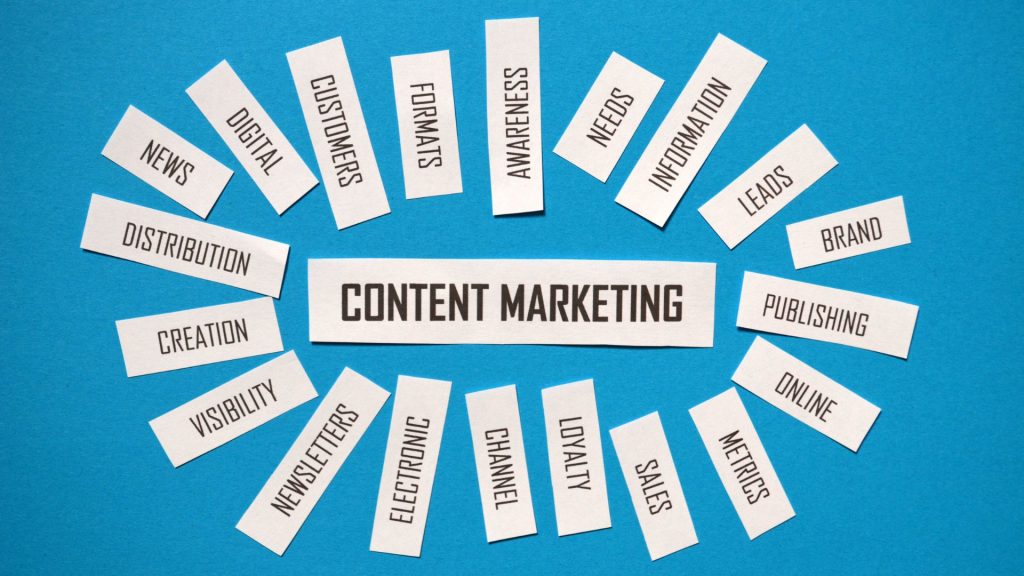 Content marketing is efficient, compelling, and persuasive to capture website traffic. According to research from Demand Metric, content marketing generates thrice as many leads as outbound marketing and costs 62% less.
It involves the creation of blog posts, videos, guides, infographics, eBooks, podcasts, problem-solving videos, newsletters, webinars, FAQs & many more content types that simultaneously work as branding collaterals and educational materials and introduce readers to your business.
Content marketing helps create an authority in your industry with little upfront costs and higher long-term benefits. It also supports the entire customer journey for your business, from lead generation to acquisition and retention.
SEO
Search engine optimization is tailoring your website content and getting the business website a top rank in the tough competition of Google and other search engines.
SEO is one of the essential methods for customer acquisition as it's likely that your customers are using search engines to find out information on a specific product or service, making SEO a valuable channel for customer acquisition. The fact that SEO is so effective for brand growth is evident in this SEO case study from a popular car rental company that increased its organic visitor count more than fivefold in less than a year!
Telemarketing
Telemarketing is widespread worldwide, where the business connects with the target audience over a phone call. These phone calls are real door-openers. The agents, if successful, can onboard a lead and turn them into a buyer instantly.
If not all, there are many industries where telemarketing or telesales plays a significant role in fetching a customer's business. The most prominent example is teleshopping companies.
Mobile Marketing
Mobile marketing refers to reaching leads & customers on their smartphones through SMS, mobile apps, push notifications, or Facebook and Whatsapp Messenger.
Mobile marketing helps companies quickly set up automated omnichannel campaigns with the help of marketing automation tools and reach customers across all touch points.
Since audiences want to interact with brands round the clock, an omnichannel presence can help deliver a consistent message across multiple channels and a delightful customer experience.
Email Marketing
Sending out emails o the listed customers and leads mentioning various offers, sharing knowledge-based content, and sending out gifts, rewards, or information about company goods and services.
Each time a business sends an email, the customer gets a notification. Whether they open the email or not, they see the brand name pop up and their subject line with any offer or reward, which they keep in mind the next time they want to buy something.
Email marketing can easily collect customer data and use it to scale the marketing strategy. Businesses can track open and click rates, and eCommerce businesses can track online activity like frequent purchases, abandoned carts, and much more.
Referral Program
A referral is the most potent and undocumented format of spreading the word in favor of a business and boosting client acquisition for businesses. The referral program theory is pretty straightforward: The more people you refer, the more you earn or save.
Customers are 4x more likely to purchase from your brand when referred by a friend. This way, new customers can be tapped into the venture.
One of the best customer acquisition examples through a referral program comes from Dropbox, a cloud-based storage company.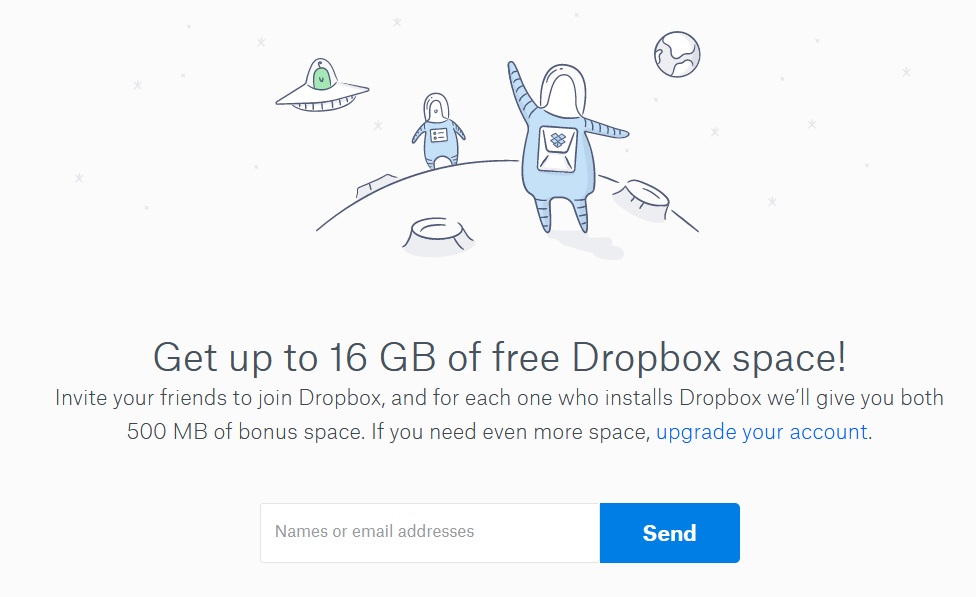 The program offers you and your friends 500MB of additional free storage space — up to 16GB in total, upon referral.
Their refer-a-friend program increased their sign-ups by 60%, registering over 2.8 million referral invites in the first month.
Social Media Marketing
With over 3.6 billion people on social media worldwide, having a social media presence for online businesses on popular channels like Facebook, Twitter, Instagram, and TikTok makes it easy to promote businesses.
An excellent social media customer acquisition strategy is essential for businesses when everyone is going digital and social. The perks of practicing and following up with the latest trends in social media marketing include:
Increased brand awareness through various content.
Showing customers a human and creative side of your brand.
Engaging with your audience on social media and directing them to your website.
Promoting new products, offers, and services to followers.
Social media is ideal for enhancing your brand's exposure, generating more leads, and expanding your business. Effective social media management across all channels helps you engage with your target audience on a personal level.
You're missing out on millions of prospects if your band is yet to leverage social media tools for customer acquisition.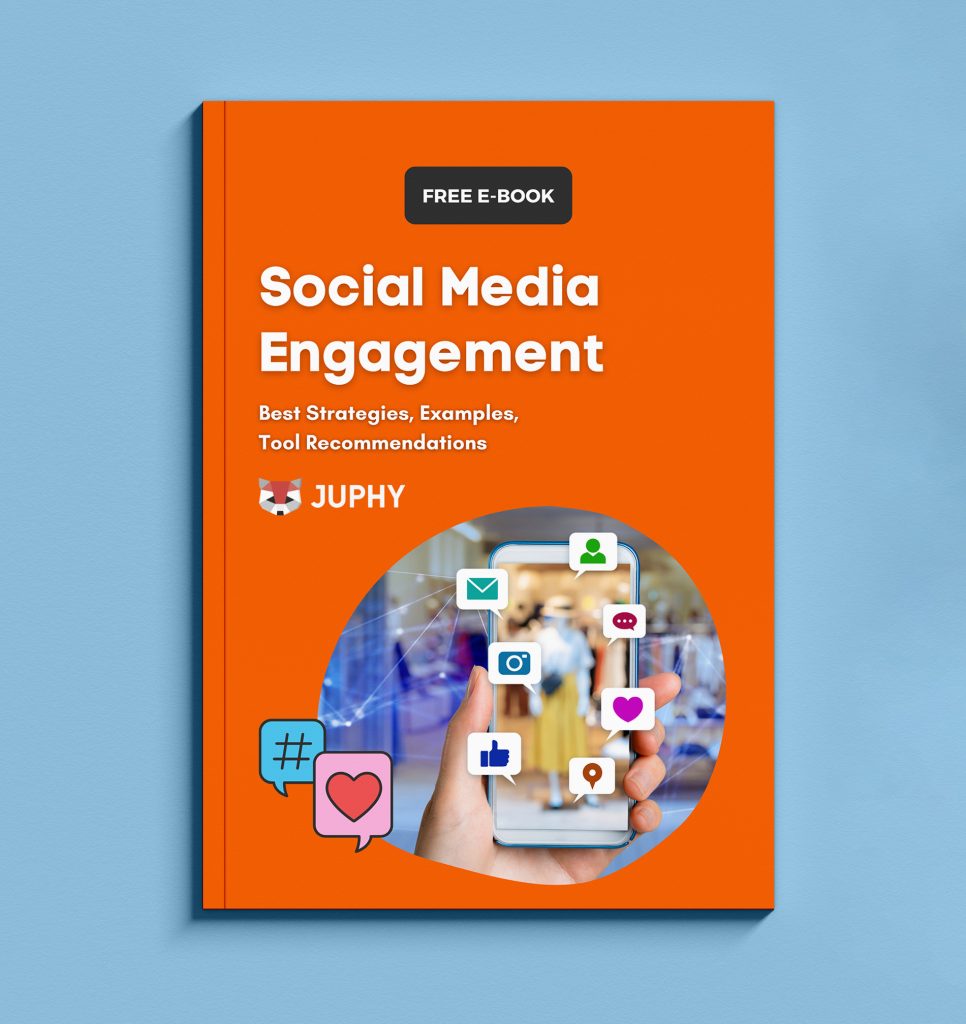 Social media engagement is an important part of social media marketing. You need to monitor and manage your content's engagement effectively. This guide will provide you with all the tips & tricks you need. Download it for free now!
Customer Acquisition with Juphy
Juphy is an all-in-one social media management and engagement tool that is a potent aide of solid customer acquisition and effective social media strategy for a company.
It manages all customer communications like email, reviews, chat, and, most importantly, social media and offers you several solutions to optimize this engagement process at its best.
With Juphy, you can elevate your social media customer service, making your customers happy and turning them into brand advocates. From your first interaction to prompt customer support on social media, Juphy helps build trust by providing exceptional customer service.
Juphy lowers acquisition costs and increases loyal customers' retention rate with its power-packed features.
Juphy helps in social listening, keeps a tab of the brand's mentions, tags, and comments across your social media channels, and streamlines all customer communication to a unified social inbox.
The Social inbox feature helps businesses in real-time communication with the customer, and canned responses help to answer frequently asked questions without human errors.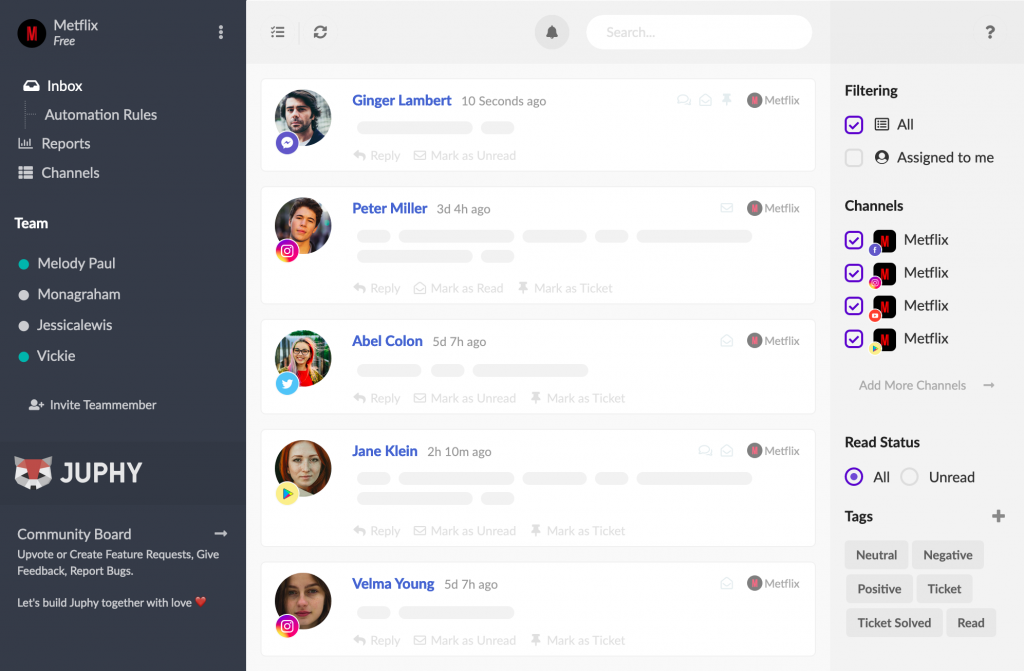 It also reduces the repetitive, manual work of answering a message or replying to a comment and responding promptly, saving time for customers and employees.
Moreover, with Juphy's team collaboration feature, it becomes easy to assign tickets to team members to reply to customer queries promptly. You can also use Juphy's automation rules to prioritize messages based on their urgency, relevance, age, and content.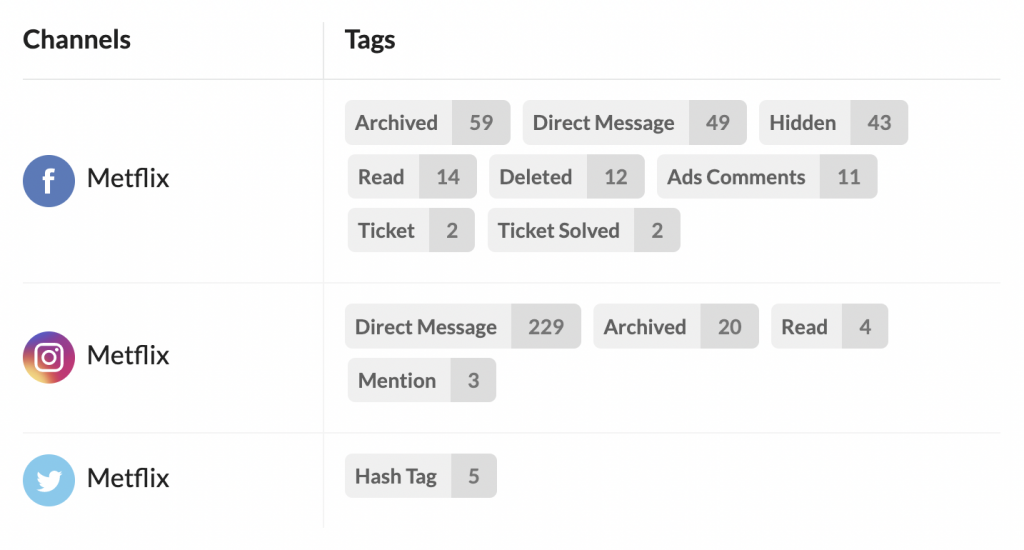 Teams can work together to deliver a consistent customer experience across all interactions and channels throughout the customer acquisition process.
Actionable reports and data are a gold mine for business. Juphy's custom performance reports help companies to track their customer service performance and social media engagement.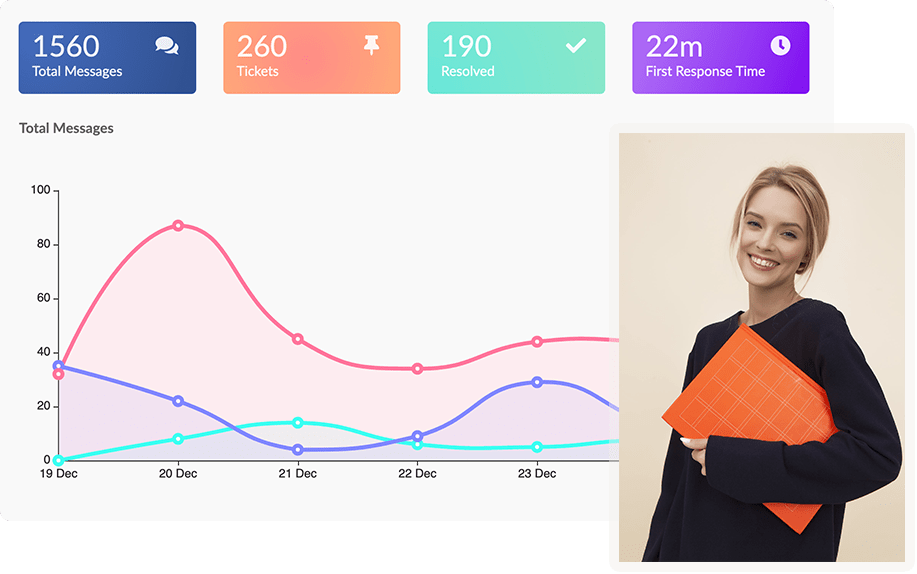 With these actionable reports, businesses can track the conversations made within a specific period and the average response time to improve the social media strategy in light of these metrics.

David Hooper
Production Expert
"Juphy has been great for my connection with customers and social media followers as it allows me to put everything in a single "inbox" and easily reply via multiple channels at the same time. Customer service and communication have been great and it's something that I use daily. I highly recommend it for anybody doing social media or in need of a good customer service option."
✓ Product Hunt Verified Review
Wrapping up
Customer acquisition is about acquiring the correct customers that stay with you and help you acquire more.
Successful companies are the ones that put their customers in the limelight for both acquisition and retention. Build a strong customer acquisition strategy with the right tools like Juphy and expect a customer acquisition cost but increase customer lifetime value.
Juphy, the only all-in-one social media management platform built for connection, helps you understand and reach your target audience throughout the customer journey, helps to engage with them, and replies to them promptly, which helps in delivering the best customer service. Juphy also helps to measure performance and ultimately acquire customers, retain them and drive growth.
Start acquiring customers with our 7-Day Free Trial today!
Create Your
Social Inbox Now
Manage all social media customer support inquiries in a unified inbox.
Related Article – Whatsapp Business Guide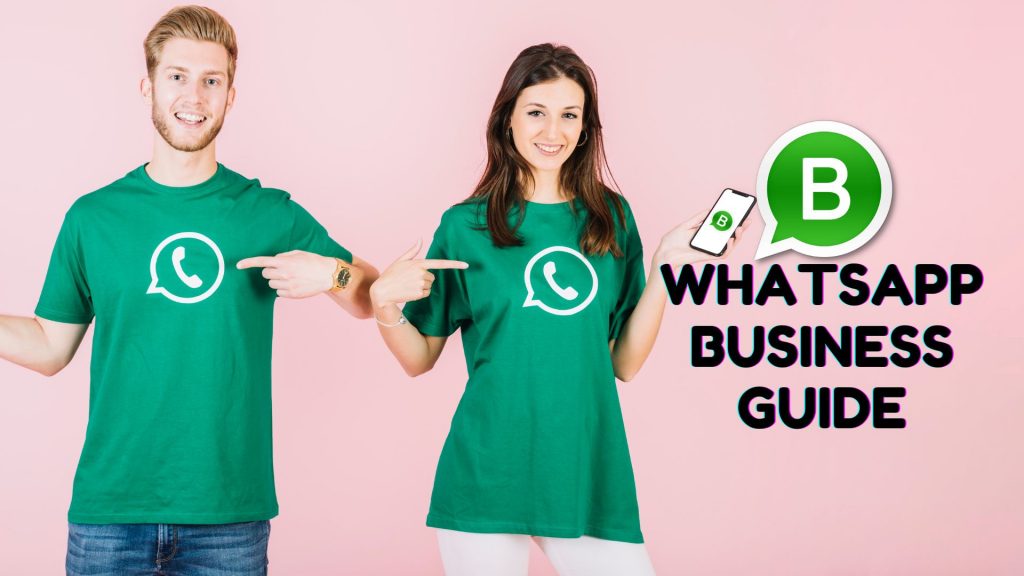 With good management of messages, WhatsApp Business can be very beneficial for your marketing and effective in your customer service. Read more to learn tips & tricks.