Traditional banking is far from over, but fintech companies are on a meteoric rise due to the emerging cashless economy procedures. Like many companies in different industries, fintechs are also on social media to raise awareness, engage with customers, and solve problems through customer support. They are certainly where they need to be marketing their services to a younger generation. But certain challenges await them in social platforms because their success depends on a balanced strategy.
Create Your
Social Inbox Now
Manage all social media customer support inquiries in a unified inbox.
Fintech's Unique Position on Social Media
Fintech, short for "Financial Technology", is quite a new disruption in the financial environment, and it is mainly adopted by a younger, social media-savvy generation. On the other hand, it is an extension of banking, and money transaction is a serious business that requires a safe flow of personal information. That's why a fintech company's communication strategy needs to balance a light-hearted and dynamic attitude while maintaining trust.
Tone of voice and financial jargon are other concerns for fintech utilizing social media. The language needs to be understandable and appealing, but simplification shouldn't lead to misinterpretations. Losses and misunderstandings can result in public comments that accuse the company of being a fraud. And since many fintech start-ups are not well established like legacy banks, it might be harder to convince customers otherwise and establish customer trust. This is why customer support's role is also rather critical for fintech companies.
Finally, marketing digital services on social media platforms dominated by visuals can present some challenges. Marketing professionals tackle this problem by differentiating their brands with original brand identities, communication strategies, interesting campaigns, and excellent customer experience.
Why Do Fintech Companies Need a Great Social Media Presence?
The pandemic changed a lot in our lives. Staying at home empowered digital finance in numerous ways. Consumers turned to fintech to manage their personal finance, loans, and investments, creating fierce competition.
Some of these brands directly face the consumers, while some target larger corporations. This divide requires the utilization of different platforms. For example, B2C fintech brands may prefer Instagram and Twitter, while B2Bs will turn to Linkedin to foster corporate relations. Even those that decided to stay away from the platforms can find themselves as conversation topics on social media, like when customers share their brand experiences on review sites.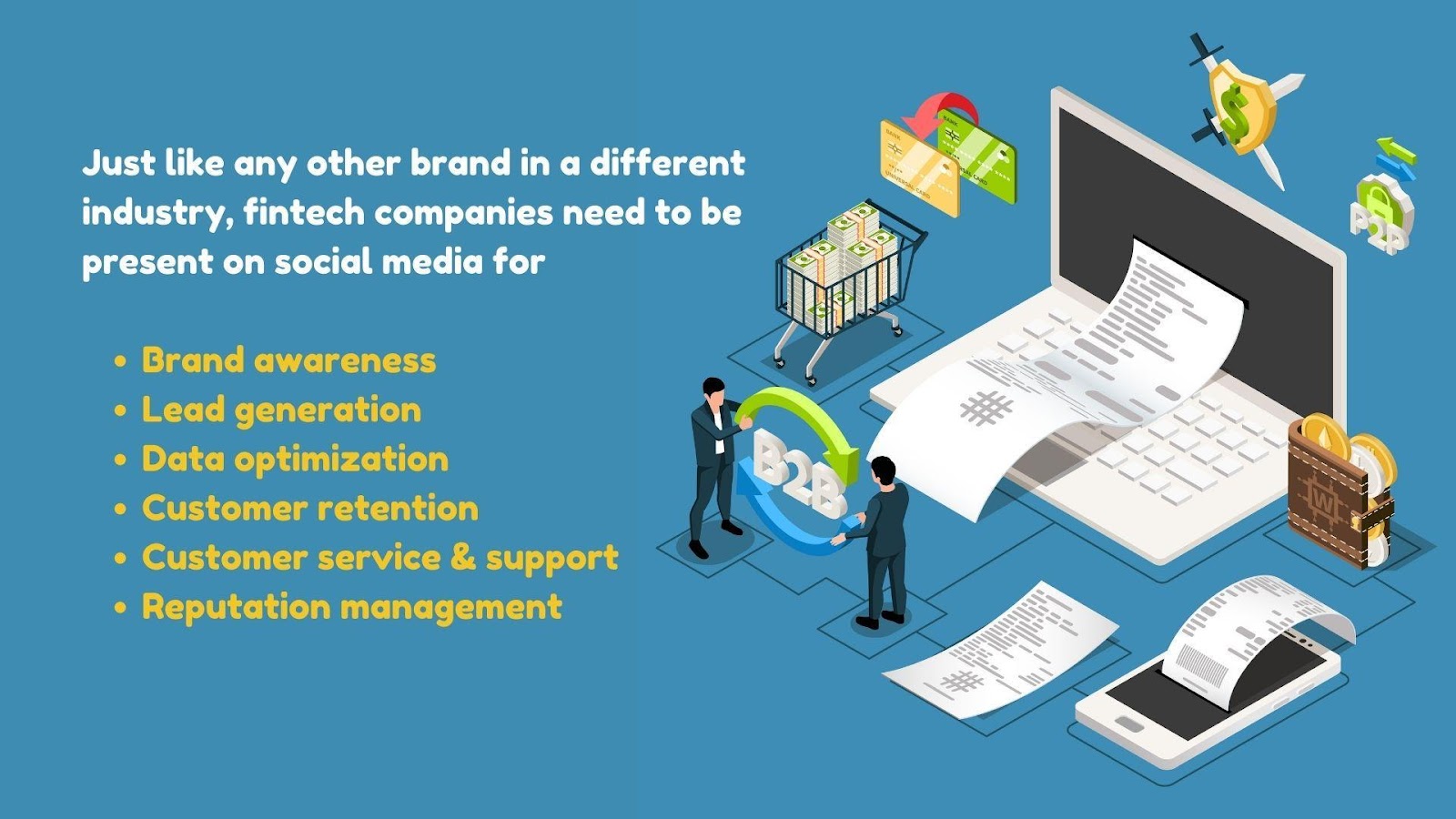 Today social media is the primary source of information for quite a lot of people. If you're not on social media, a large portion of your target audience may not even know that your company provides the services they need.
Creating awareness leads to gaining prospects, some of whom should be your customers. With engaging, relatable, educational, and creative content, you'll improve your chances of increasing both your reach and sales.
Technology requires data—a huge amount of it. With millions of users, social media is the perfect environment to gather, organize and optimize data.
Generating leads and acquiring new customers is one thing, but keeping the existing ones happy and loyal requires consistent engagement. Social media platforms are the natural habitat of dialogue.
Even the simplest of technologies can present challenges to some. And financial technologies are far from simple. From uncomplicated questions to serious transactional issues, many customers will choose to reach out to you through social media channels.
Further Reading – PayPal's Social Media Customer Service Performance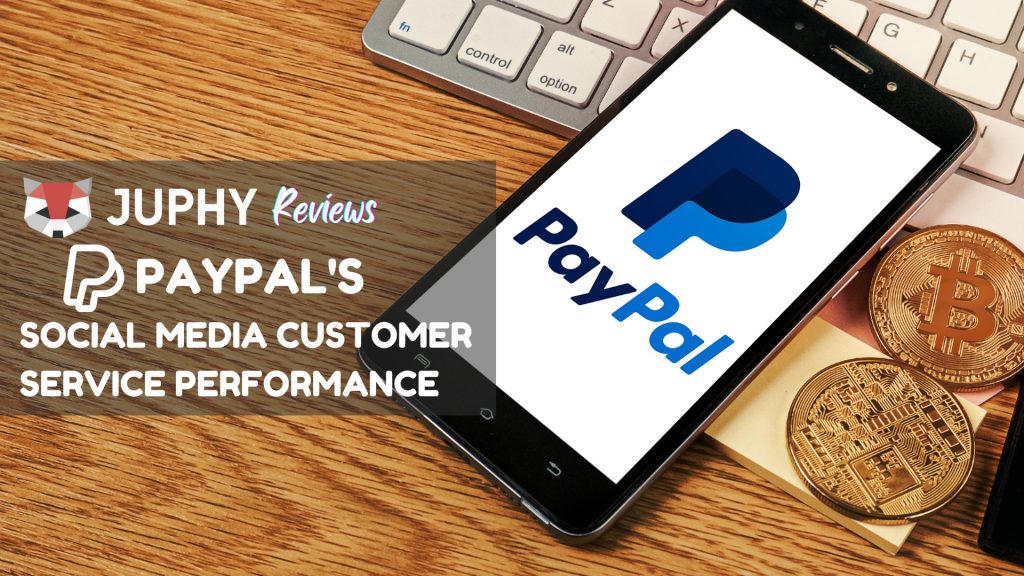 Learn how PayPal's social media customer service performance has helped increase customer satisfaction dramatically. Read more now!
A successful business becomes a topic of conversation on social media whether they want it or not. So it is better to be present where your target audience is and aware of the opportunities and threats your company or industry faces.
4 Fintech Companies That Are Doing Social Media Marketing Right
Finding the right balance for social media communications strategy takes a bit of trial and error. Here are some examples that tackle exposure, engagement, and customer service.
Zopa Money
Zopa is a peer-to-peer lending company that also offers personal loans. The company was founded in 2005, and they provide loads of educational content in a highly entertaining manner.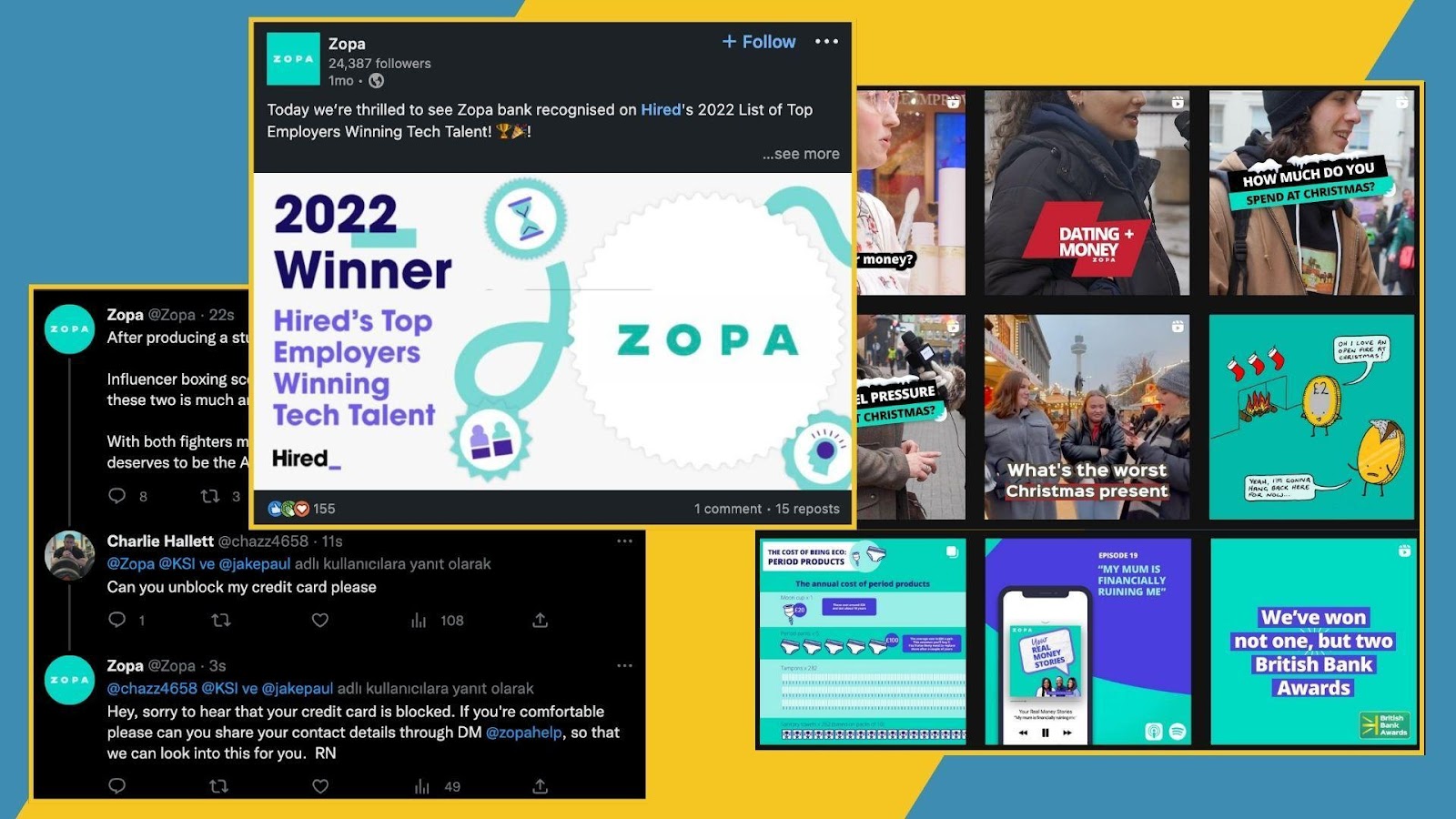 Anna.Money
Anna is a business account and tax app for small businesses, and it definitely has a character with a unique tone of voice. According to the website, the name is an abbreviation of "Absolutely No Nonsense Admin," and their colorful social media accounts provide relevant information along with empowering remarks.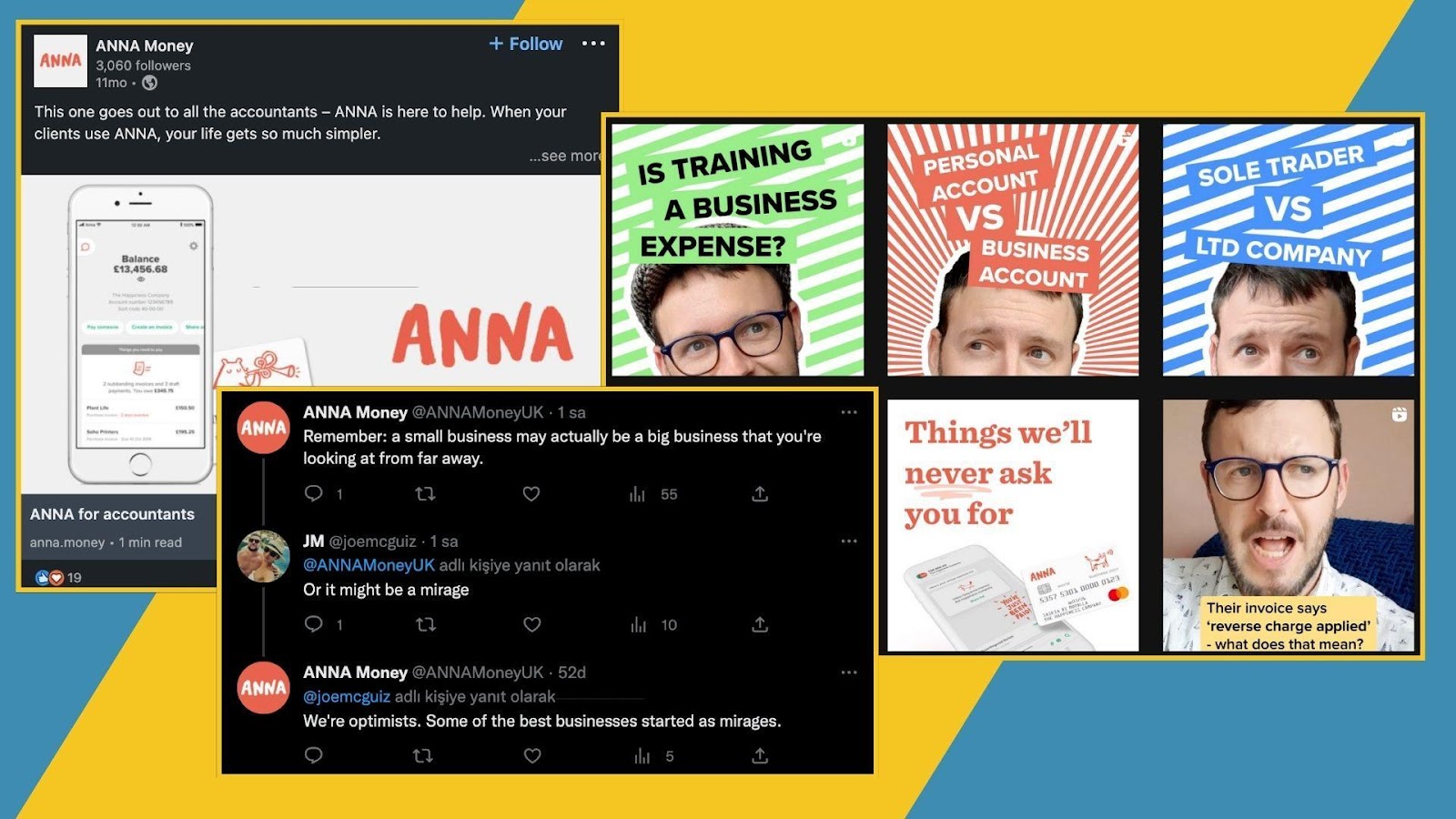 Cashapp
With 2.1 million followers both on Instagram and Twitter, Cashapp doesn't look like a serious finance application at all. With memes, games, influencer collaborations, and campaigns that give away free money, Cashapp is the perfect example of the social proof principle.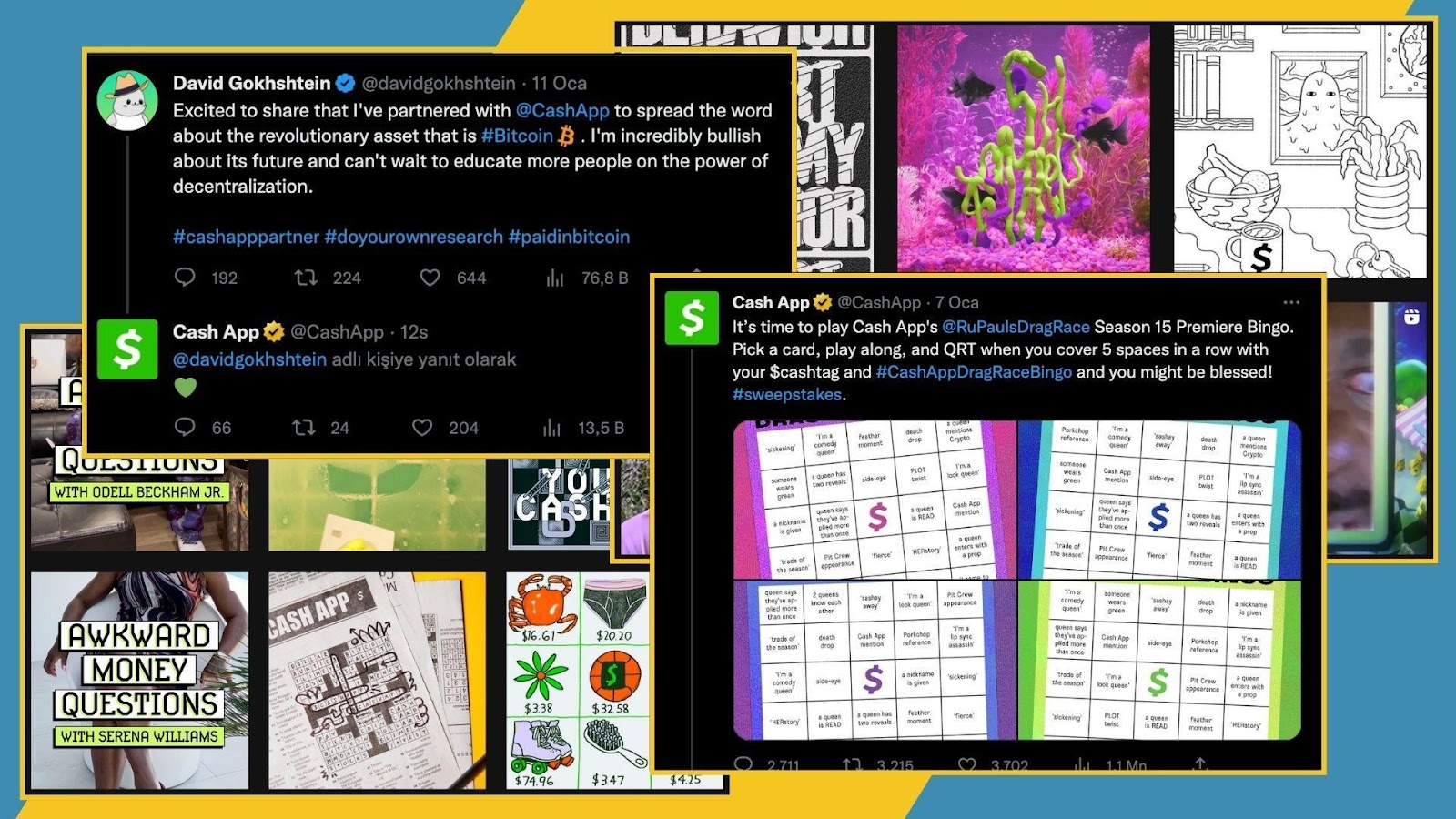 Affirm
Affirm is a "buy now pay later" company that claims to provide "Honest financial products that improve lives." It is more of a B2B company that adopts a more professional tone of voice, especially in its LinkedIn communications.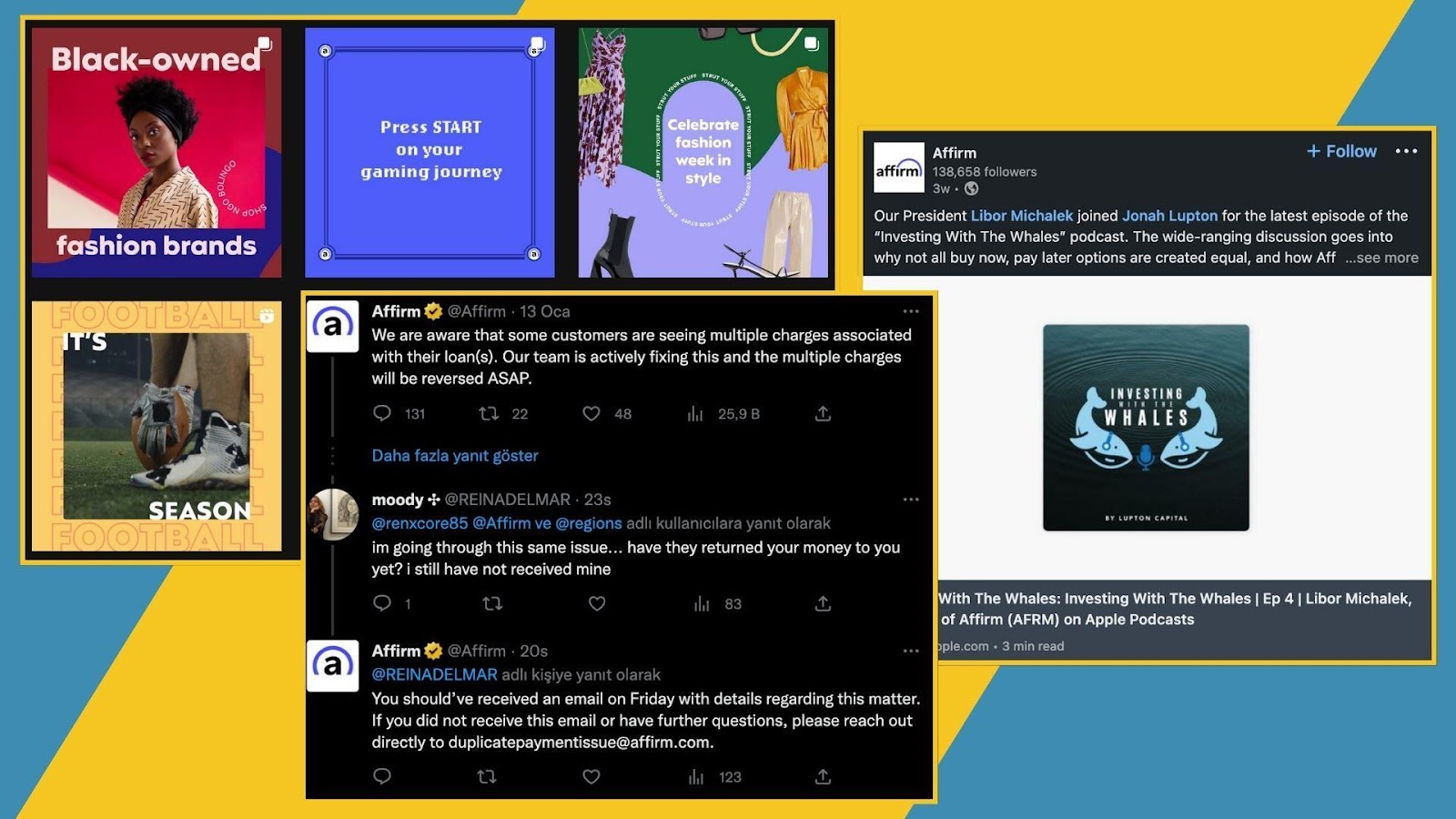 Tips & Tricks for Fintechs that are New to Social Media
Do your research: Know what your target audience likes and expects, meet them where they are, and be aware of the activities of the competition. Identify the pain points and segment customers for relevant messaging.


Set goals and KPIs: Embrace the S.M.A.R.T approach when creating your social media communication strategy.


Be approachable: Apart from your awareness campaigns, let customers find your accounts easily on social media and encourage conversation. Try empowering customers rather than patronizing them.


Create user-friendly content: Financial jargon can be complicated or even scary. To-the-point videos, small games, infographics, and other formats can help users relate to your services in an undemanding way. Balance your push messages with engaging content.



Further Reading – Payoneer's Social Media Customer Service Performance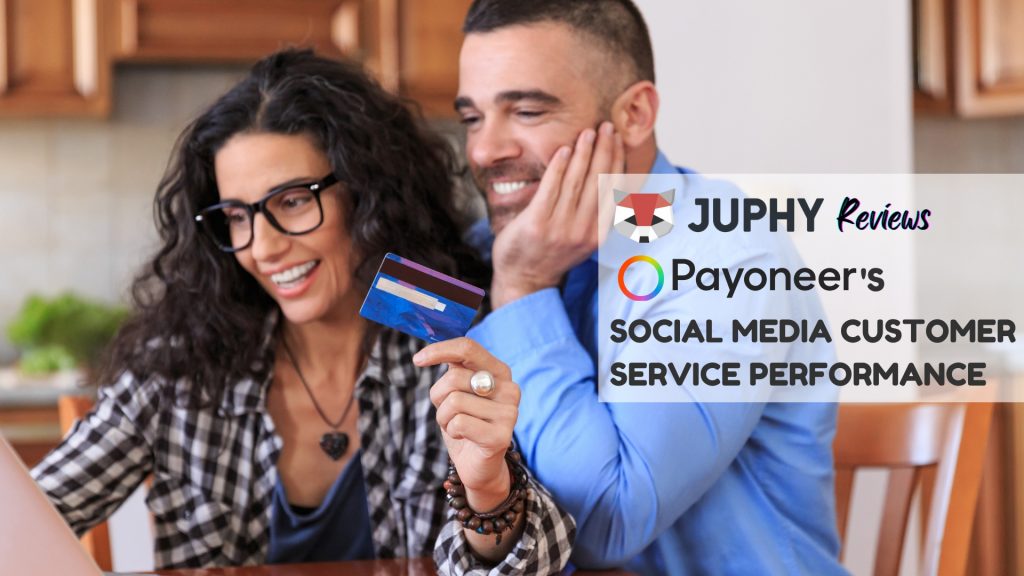 With over 2 million users in 200 countries, how well does Payoneer handle customer support on social media? Find out in our review.
Create safe spaces: With all the personal information requirements, it is critical to connecting with your customers in secure environments. Prepare your guidelines for spammers, fraudulent activity, and private data concerns.


Conduct social listening: People might talk about your brand or services on Twitter, review sites, and industry blogs. You can respond to them or participate in discussions to gain greater control.


Leverage influencers: Many finance companies ignore influencers because money is a serious subject, but there are also influencers of finance who are active on social media. You can choose trustworthy professionals to convey your brand messages to crowds.


Invest in customer service technologies: Large amounts of data require greater control over your business affairs. You can allocate some of your resources to relevant tools or software for greater productivity.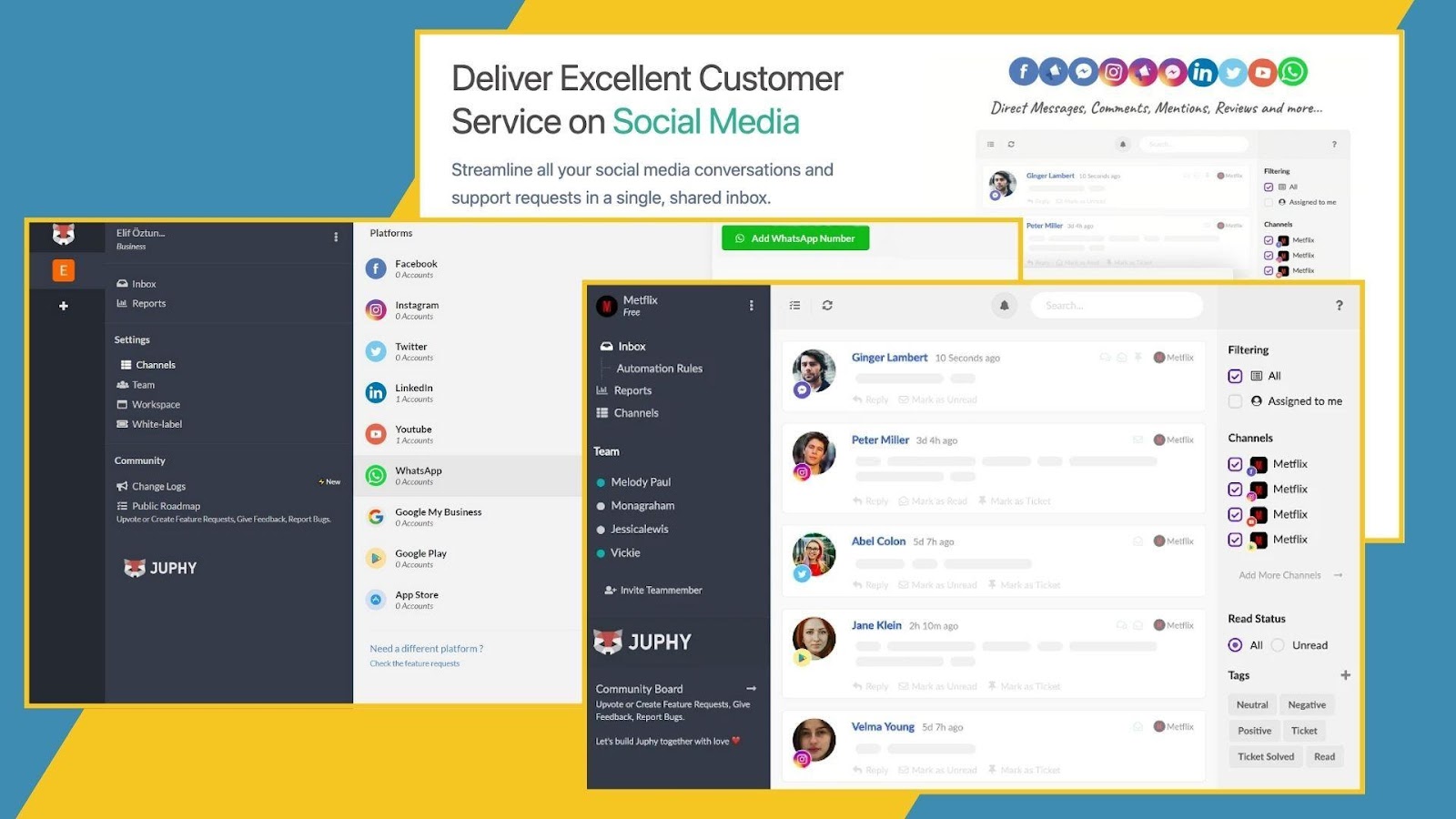 A Multichannel Help Desk Worth Investing: Juphy
Juphy is a multichannel help desk designed for social media focused teams. It helps you receive and respond to all kinds of customer queries in real-time, and it is easily integrated with all the social media platforms you need. While you can manage all your customer engagement from social media, chat and review sites in a unified inbox, you can also conduct social monitoring on Twitter for proactive customer service. With its clean and actionable reports, you can analyze channel and team performances and optimize your communications.
Start your 7-Day Free Trial in two minutes to enjoy the control and productivity over your social accounts, and use the remaining time to find more creative ways to reach your fintech business objectives.
Conclusion
There's no doubt that fintech companies need to be present on social media as much as brands from other industries. In order to promote the fintech brand effectively on social media, a balanced strategy that combines reliability and dynamism is crucial. Offering great customer service, following the numbers closely, and constant optimization of content and services can help fintechs to thrive on social media.
FAQ
1. Why do fintechs need social media?
Basically, fintechs need social media to raise awareness, build trust, foster engagement, drive sales, and solve problems through customer support.
2. What are the challenges fintech companies encounter on social media?
Trust and privacy are two of the biggest challenges that fintechs need to face on social media. This is accompanied by relevant and engaging content, along with the challenges in differentiation.
3. How can a fintech company differentiate on social media?
Building a brand identity that reflects reliability, originality, and dynamism, as well as supporting it with a unique tone of voice, can help fintech companies to deliver marketing messages and engage with customers on social media. 
Create Your
Social Inbox Now
Manage all social media customer support inquiries in a unified inbox.
Related Article – Why Is Social Customer Service Essential for Fintech?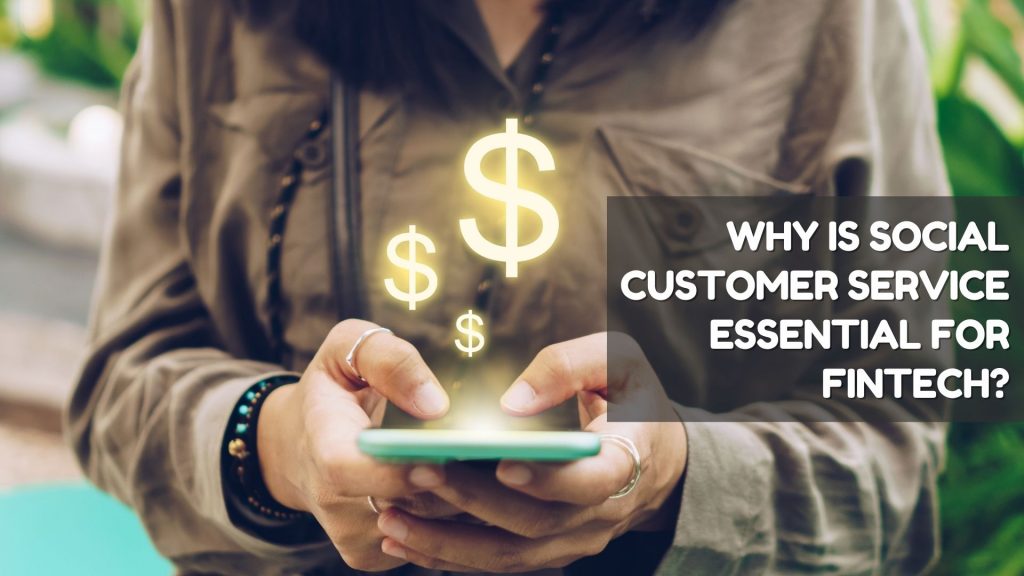 Stay ahead of the game in the fintech industry. Discover the power of fintech social customer service and how it can boost your business. Read more now!